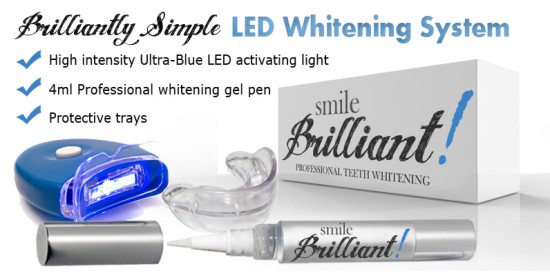 Are your pearly whites looking not-so-pearly? Would you like to try a unique home whitening system that aims to mimic getting your teeth bleached at the dentist? Then this giveaway is for you! One lucky Contest Corner reader will win a Smile Brilliant LED Whitening Light & Whitening Pen, so read on for your chance to win!
The last time I was at the dentist, I checked into their prices for teeth whitening because I'd like to get it done professionally. The cost was way out of my budget right now, so I figured I would just save up and have it done right before our wedding. So when I read about Smile Brilliant, an at-home whitening system that utilizes a similar method to lightening teeth that dentist employ, I was intrigued. Their kit includes an LED light that you wear in your mouth in addition to bleaching gel, which is the first time I have personally seen that sold in a kit for home use. Smile Brilliant offered to send me a complimentary kit so that I could give it a try and see how it worked for me, so I was excited to see if I would get "Pro" results from it.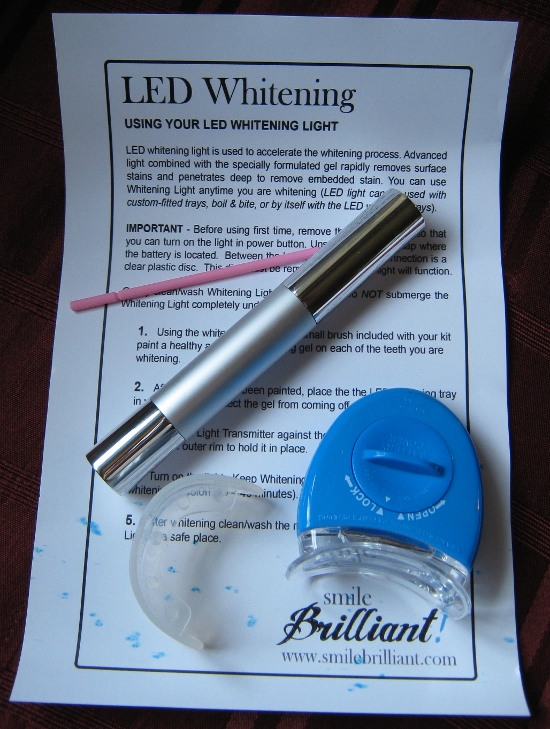 This is the kit I received. As you can see, it's fairly straightforward – you receive a whitening pen, a small brush, mouthgaurd, and the whitening light. Most of the information is on the Smile Brilliant website, so the instructions are pretty sparse, but there's not a lot to the process. You paint the bleaching substance on to your teeth, insert the mouthguard, and then the light; you hold it in your mouth for 20-45 minutes, and then remove.
I've been using this for the last few days, and it's as easy as it sounds. When you first use the whitening pen, just twist the bottom of it until the gel starts to come out – this takes quite a few twists so just keep going until the gel appears. You can use the extra brush to even out the application or remove excess gel as necessary. Once you're done, you insert the mouthguard and light and then set a timer for 20 minutes. I thought it was going to be pretty torturous having to hold this large light in my mouth for so long, but it actually wasn't that bad. I look kind of like I'm eating a light-up Frisbee when I do my whitening treatments.

I thought my teeth looked a little brighter after my first treatment, and Jai agreed; they recommend using this for 12 days to get optimal results. I experience some sensitivity and discomfort any time I use any whitening gel, so my gums feel slightly sensitive when using it, but not bad at all; I'm on day 3 so far so I'll see how it goes on. The mouthguard that comes with it started rubbing on my gums and causing pain – they say that the gel and LED light can be used with your own custom trays, which I already own a set of, but they also warn that most "Boil-and-bite" trays can push the whitening gel up over your gumline, which is exactly what happens with mine. This gel is not supposed to come in contact with your gums, so I don't think using my own trays is a good idea; instead, I'm going to wait a few days and try the mouthguard that came with the kit again. Maybe over time my gums will get used to it and not get so sore. In all, this is an intriguing concept for a product – it may not be identical to what dentists use (Although I've never had it done professionally to compare), but I love the idea of trying to replicate that kind of process at home and I hope that I'm able to continue using it.
20% Off Coupon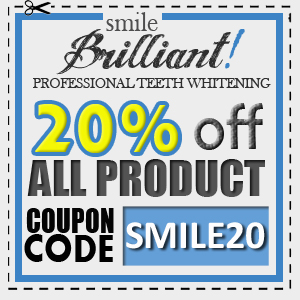 Use coupon code SMILE20 to receive 20% off your purchase at Smile Brilliant!
Giveaway Time!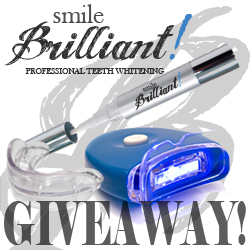 One lucky Contest Corner winner will receive a Smile Brilliant Brilliantly Simple Package containing an LED Whitening Light & Whitening Pen! Here's how to enter:
1. For your first entry, just leave a comment on this post. That's it! This step is required to qualify for the drawing.
Want extra entries? Do any of the following, and leave a separate comment for each one. Each option is worth 1 extra entry each, unless otherwise noted:
2. Click here to "Like" Smile Brilliant on Facebook, then come back here and leave a comment on this post telling me what your Facebook username is.
3. Click here to subscribe to Smile Brilliant promotional emails. Once you sign up, you will receive a code to confirm your registration. After you do this, come back here and comment on this post with the code number to verify that you registered. This is worth THREE EXTRA ENTRIES so please leave three separate comments in order to claim your extra entries!
4. Write a post on your blog linking to this giveaway. Then come back here and leave a comment with the link to your post!
5. Write about this on Twitter, then come back and leave a comment on this post with the link to your tweet! One Twitter entry per person. You can use the button at the bottom of this post to tweet with one click!
6. Subscribe to my blog updates by clicking here. Then come back and leave a comment on this post with the email you subscribed with!
7. Post my button on your website – just copy and paste the following code, and let me know where you put it:
Rules, regulations, and other important stuff:

Giveaway ends on June 27th at 11:59 PM, PST. Winner will be chosen the following day via Random.org. Winner has 48 hours to respond to my notification email, or a new winner will be chosen in their place. This giveaway is in no way administered, sponsored, endorsed or otherwise associated with Facebook. By entering this giveaway, you are releasing Facebook and understand that you are providing information to Contest Corner and Smile Brilliant, not Facebook.
Giveaway is open to worldwide entrants, 18+.