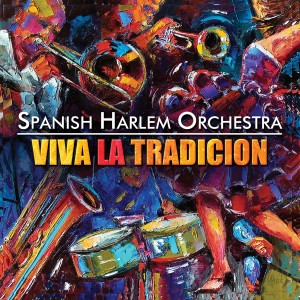 Last month, the Spanish Harlem Orchestra released their latest album, Viva la Tradicón. To celebrate, one lucky Contest Corner reader will win a copy of the album, so read on!
About Viva la Tradicón:
Concord Picante is proud to announce the release of Viva la Tradicón, the newest album from the Grammy winning 13-piece collective Spanish Harlem Orchestra. The 12-track collection marks the orchestra's debut album for Concord Picante and overall fourth outing. Viva la Tradicón takes up where its three predecessors left off – stirring the pot of mid-20th century influences and keeping the salsa simmering for current and future generations. The album is available everywhere September 28, 2010.
Now in its tenth year, the Spanish Harlem Orchestra is one of the most formidable and authentic Latin jazz combos of today. Yet for all of its appeal with contemporary audiences, the group's success is actually rooted in the past. A lively and energetic affair, Viva la Tradición draws on inspiration from the music's history and enduring traditions. The collection is comprised largely of original compositions and arrangements of classic salsa tunes by bandleader/founder Oscar Hernandez. Hernández is one of the most respected musicians in Latin & Latin Jazz music. His track record & discography are extensive. On the new CD he enlists the support of veteran composer and arranger Gil Lopez on three of Lopez's compositions ("Son De Corazon," "Nuestra Cancion," and "Regalo De Dios).
Viva la Tradicón opens with the exciting "La Salsa Dura," a song bursting with punching horn lines and spirited vocals that "really captures what we're about," says Hernandez. Amid the series of salsa tracks, one of Gil Lopez's arrangements, "Nuestra Cancion," acts as an unlikely addition to the high-powered energy of the set. The collective included this ballad as a point to their listeners, in order to communicate, "you need to listen to this, because this how it was done back in those days. It was just beautiful music."
The orchestra finishes with two songs: Hernandez's "Rumba Urbana," a percussive and complex tune that shimmers with tight trumpet lines and syncopated rhythms around improvised solos, and "El Negro Tiene Tumbao," a tune that draws on the bold and artistic delivery by featured guest vocalist Isaac Delgado.
Front to back, Viva la Tradición is very much a nod to the countless artists – well known and obscure – who helped usher salsa music into the cultural mainstream several decades ago. "Preserving that legacy and introducing it to new audiences in a new century," says Hernandez, "is more important than being the musical flavor of the month."
Track Listing:
1. La Salsa Dura
2. Mi Herencia Latina
3. Son De Corazon
4. Como Baila Mi Mulata
5. Si Me Quieres Te Quiero
6. Baila Latino
7. La Fiesta Empezo
8. Nuestra Cancion
9. Linda
10. Regalo De Dios
11. Rumba Urbana
12. El Negro Tiene Tumabo
Giveaway time!
One lucky Contest Corner reader will win a copy of Spanish Harlem Orchestra's new album Viva la Tradición
! Here's how to enter:
1. For your first entry, just leave a comment on this post telling me why you'd like to win! This step is required to qualify for the drawing.
Want extra entries? Do any of the following, and leave a separate comment for each one:
2. Write a post on your blog linking to this giveaway and Spanish Harlem Orchestra. Then come back here and leave me the link!
3. Write about this on Twitter, then come back and leave me the link to your tweet! One Twitter entry per person. You can use the button at the bottom of this post to tweet with one click!
4. Subscribe to my blog updates by clicking here. Then come back and leave me the email you subscribed with!
5. Become a follower of my blog by clicking the "Follow" button in my sidebar! Then come back here and let me know in a separate comment!
6. Post my button on your website – just copy and paste the following code, and let me know where you put it:
Rules, regulations, and other important stuff:

Giveaway ends on November 4th at 11:59 PM, PST. Winner will be chosen the following day via Random.org. Winner has 48 hours to respond to my notification email, or a new winner will be chosen in their place.
Giveaway is open to US residents. I received no compensation for this post – other than the joy of giving a prize to one of my loyal readers!