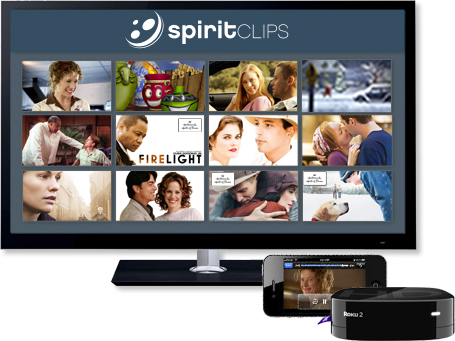 Since I "Cut the cord" and ditched my cable package last year, I'm always open to new services I can try to watch streaming TV shows and movies. Since my TV reception is blocked by the hills, I can't get any TV reception at all unless I pay for a basic cable package or invest in a large, specialty antenna, which I haven't done yet due to the expense. (I've tried the bunny ears and even tried a larger homemade antenna on the roof that works for a lot of people – no dice!) I don't regret my decision at all, since it is saving me a ton of money, but it's always nice to find new, inexpensive ways of increasing my entertainment selection.
So when I heard about SpiritClips, my ears perked up. This streaming content portal includes Hallmark Hall of Fame movies, documentaries, and shorts which can be viewed online, or through your TV via devices such as Roku & Boxee. I received a complimentary one-year membership to SpiritClips this morning, and I was very interested to check out the selection and see how it stacked up to other streaming content providers.
The first thing I noticed upon setting up my gift membership is that it didn't require a credit card just to redeem it (I'm looking at you, NetFlix!). I don't know what the credit card requirements are for the person who purchases the membership, or if mine was set up differently due to the fact that it's a promotional account for review, but as far as I can tell it should be a pretty standard gift membership. It was set to auto-renew my membership, which was easy enough to turn off, and since I don't have a card in there anyway it doesn't appear that a bill would be generated. (If you DO have a card on file, it will auto-charge your card annually unless you turn it off.) This is the first thing I look at when I explore on-demand content providers, as I've noticed a disturbing trend of most sites requiring automatic monthly debit payments just to become a member, and there's no way I'm going to hand over my debit card with a free pass to any company that asks.
Aside from the financial considerations, the most important thing in these type of "Watch on demand" services is the content. Because SpiritClips operates in a pretty limited niche, the movie library is pretty small, so you wouldn't use this as a TV substitute as you might with a service like Netflix. That being said, I know many people who do not have cable or similar services due to their concerns over the content – so I could see a base of consumers that would really enjoy this service for the fact that it provides all family-friendly content. In addition to Hallmark Hall of Fame movies and documentaries, there are also TED Talks & speeches, and shorts, as well as an e-card service that is built in to your membership. So if you are a family that doesn't have TV or Netflix because you don't like the content – or if you DO but enjoy Hallmark movies and want to increase your options for streaming entertainment – I would recommend looking into this!
A Hallmark SpiritClips membership is $4.99 per month or $35.99 annually. And just in time for Valentine's Day, they have a special page listing all their romantic movies, including "The Magic of Ordinary Days" starring Keri Russell and "The Lost Valentine" starring Betty White and Jennifer Love Hewitt. So now you have another option for tonight's movie date!