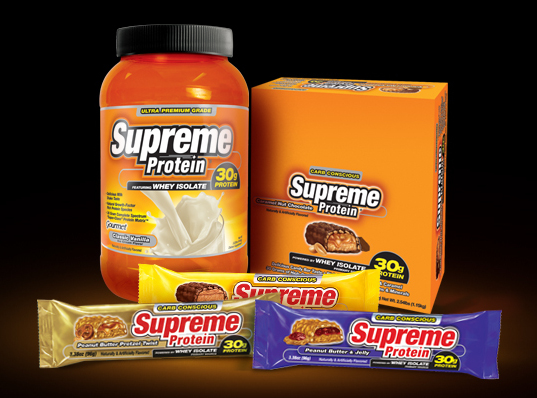 I've always been a fan of protein bars. I stock up on them whenever I find a good sale, because they are such a handy pantry staple. They have a relatively long shelf life, and they are fantastic for tucking into lunch bags or eating as a snack-on-the-run. When I have guests staying over, sometimes I set out a "Breakfast buffet" on the dining table with a basket of fruit, instant oatmeal packets, and protein or granola bars – it's a great way to let guests choose what they want whenever they get up and feel hungry. The only downside to protein bars is that they don't always taste that great.
Well, a few days ago I sampled one of the best-tasting protein bars that I've tried. The brand is Supreme Protein, and they sent me three complimentary boxes of their protein bars so that I could review them. The varieties that we received were Caramel Nut Chocolate, Peanut Butter Pretzel Twist, and Peanut Butter & Jelly. I was impressed by the flavors, especially the Caramel Nut Chocolate – I love anything caramel, so this one is a definite winner. It's about as close to a candy bar as you can get; mind you, it still has the "Heavy" consistency of a protein bar, and it's not so sweet that you would mistake it for a piece of chocolate. But it has a great flavor that encourages me to eat it instead of "Suffering" through it because I'm trying to eat a healthy breakfast. (Anyone who has ever chewed endlessly through a not-so-tasty protein bar knows what I'm talking about!)
I also enjoyed the contrast of the salty pretzel chunks with the sweet caramel in the Peanut Butter Pretzel Twist. But what really surprised me was the Peanut Butter & Jelly – I couldn't believe how much it tasted like an actual PB&J sandwich. If you've been reading my blogs for a while, you might know that Peanut Butter & Jelly sandwiches are Jai's favorite food, so he's quite the connoisseur. He loved these bars, asserting that they tasted very "Authentic"!

He likes these Supreme Protein Bars as much as I do, and we've been eating them every day since they arrived.
Supreme Protein Bars contain 15 grams of protein each, and they're quite filling – I often eat only half a bar in a sitting. You can find full nutritional info and learn how to order on Supreme Protein's website, SupremeProtein.com.