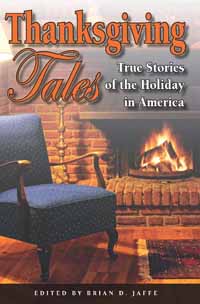 With Thanksgiving coming up next week, my US readers are probably planning their menu and making plans to visit loved ones. Thanksgiving is an important part of the holiday season in America, and is very dear to many people's hearts. Brian D. Jaffe loves this holiday so much that he compiled a book called Thanksgiving Tales: True Stories of the Holiday in America, a collection of Thanksgiving stories.
I've always really enjoyed compilations of personal stories and anecdotes, so I suspected that I would enjoy this book. The 48 short stories in here come from all backgrounds and ages, both traditional and offbeat, with writing styles ranging from poetry to nostalgic memories to casual, modern prose. It's quite a diverse collection – I've never read a book of holiday stories that was quite like this. Thanksgiving Tales ranges from recollections of childhood holidays spent on a farm in the 1940s to modern-day tales of transgendered couples hosting their first Thanksgiving. Some stories are glowing accounts of the joys of Thanksgiving past; others are melancholy memories, with contributions from people who downright hate the day! The diversity of the stories in this collection are what make it memorable. Not every story is compelling, but they are all unique and personal, because no two people experience a holiday quite the same way. But despite all the differences in backgrounds and traditions, the common thread of humanity is what ties all these experiences together and gives them common ground.
My favorite story in this book had to be the Italian-American family that put on such an elaborate spread of decadent food that they actually forgot to serve the turkey! I could also relate to the British family on a US military base, celebrating Thanksgiving with their Korean neighbors by serving Shepherd's pie and eggrolls. As a Brit living in the US, I understand how turkey on Thanksgiving seemed odd to them – in the UK we eat turkey, stuffing, and mashed potatoes at Christmas, so having it on Thanksgiving always feels a bit like Christmas has come a month early to me! (Not necessarily a bad thing…I do love stuffing!)
This book is a perfect read during the holiday hustle and bustle – you can pick it up and read just one short story at a time, making it an ideal book to bring along on holiday travels. This would also be a great hostess gift if you are attending Thanksgiving at someone else's house. Most of these stories are wholesome and heartwarming, though I should note that a few of them are irreverently modern and have very mild language – nothing you couldn't say on TV, but I thought I should mention it so you can gauge this book's appropriateness as a gift. Not much offends me, but I realize that your great-grandma may feel differently!

Thanksgiving Tales: True Stories of the Holiday in America edited by Brian D. Jaffe is available on Amazon for $12.38.
You can learn more about this book at ThanksgivingTales.com. I received a promotional copy of this book for the purposes of this review.