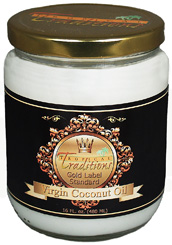 If you're a regular reader of this blog, you probably know that I work with Tropical Traditions frequently. When they recently invited me to try out another complimentary product from their line, I knew right away that I wanted to see what their Gold Label Virgin Coconut Oil for Hair Treatment was like. I'm in the middle of bleaching my hair out from black to blonde, so I wanted to add as many hair treatments to my arsenal as possible! To be honest, I didn't think this would do much of anything for my hair. Because I have very specific styling needs – not to mention color-treated and heat damaged hair – I usually invest in salon products, simply because they are the only thing that has worked for me. Bet you weren't expecting Super Coupon Girl to shell out for salon brands! However, frugality isn't just about cost out of pocket – it's also about value for money. But, I figured I'd give the coconut oil a whirl and see how it would stack up.
Bleaching your hair out at home has to be done in stages. I bleached it once, waited a week, then bleached a second time. During the interim, I did as many deep conditioning treatments as possible. After the second time, my hair pretty much felt like straw. So when my Tropical Traditions hair treatment arrived, I added it to a three-prong attack of moisturizing treatments. First, I used John Frieda 's Frizz-Ease Overnight Repair Serum right before bedtime. Before my shower the next morning, I applied Tropical Traditions' Gold Label Virgin Coconut Oil on top of the John Frieda treatment. This kind is specifically formulated for use on hair – according to Tropical Traditions' website, it has a slightly higher amount of protein than their other coconut oils due to the presence of coconut solids.
Applying this is different from most hair treatments, because it's more of a solid consistency than a goopy cream; I use a spoon to scoop it out. I clipped my hair up and left the treatment on for some time, so that the oil could really saturate my hair. Once I got into the shower, I shampooed my hair and finished with Wella In-Depth Treatment. After I blow-dried my tresses, I could tell an immediate difference in softness and strength in my hair.
Obviously, since I had used this in conjunction with other products, I wanted to try it by itself to get a better idea of its effectiveness. So for my next test, I tried using it as a regular conditioner in the shower. I realized that it works great for me as a hair treatment, but not as a day-to-day conditioner. When I was applying it to my hair, it felt really "Dry" – the feeling you get when there is little to no conditioner on your locks. I kept applying more and more coconut oil, but it still felt "Dry", so I figured I would rinse it out and see how it felt. I attempted to blow-dry it, but realized that my hair was completely saturated in oil. I stuck my head back under the shower and rinsed it again, but I soon realized that I would have to shampoo it to get the grease out. I could not even dry my hair because it was so saturated – it looked like I had stuck my head in a deep-fryer. But, it was late and I was tired, so I decided to just go to bed and shampoo it again the next morning, figuring that the oil would give my hair some extra conditioning while I slept. (I made sure to put an old pillowcase on my pillow first, so that it wouldn't ruin anything!)
Well guess what? I accidentally discovered a great hair treatment. The next morning, I shampooed out the coconut oil and used my Wella treatment as conditioner. I blow-dried my hair, and discovered that it felt silky and soft! I was extremely impressed with how effective this overnight coconut oil treatment was. So for my last test, I wanted to see how it would handle the damage from freshly bleached hair.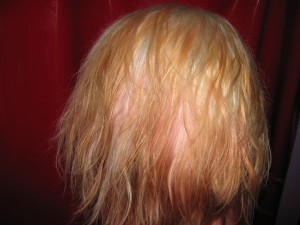 Click to see full size
This is my hair right after my third bleaching session. As you can tell, my hair was extraordinarily brittle and damaged – so much so that I couldn't even run a brush through it or clip it up, lest I cause more breakage. After snapping this photo, I applied a generous amount of the coconut hair treatment, wrapped my hair in a towel, and went to bed. I left it on for much for the next day also, then washed it out. Once again, I noticed improvement in the texture of the hair – I felt like I could safely clip it up again without breaking my hair right off! Here's a photo of how my hair looked a little less than 48 hours after treating it with coconut oil: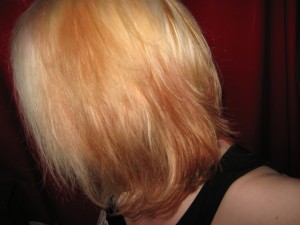 Click to see full size
I also used Argan Oil as a leave-in treatment before styling, and that seems to help as well.
I've continued to condition my hair with Gold Label Virgin Coconut Oil, and I've come up with a good system for using it. It works the best if you apply it while in the shower, but don't rinse it out: Put on a shower cap and leave it on overnight or longer. (I highly recommend a shower cap rather than a towel, as it gets messy!) Then shampoo and condition as usual. I would have to say that this is the best hair treatment I have ever used; I have been recommending it to all my friends who color their hair. This will be gaining a space on my shelf next to Bumble & Bumble and Phyto – which is really saying something.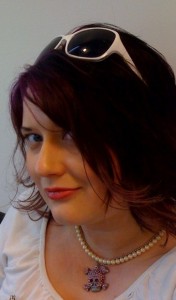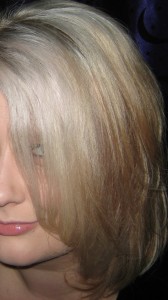 Before——After
To give you an idea of how dramatic a color change this has been, check out these photos. The photo on the left is my hair color before I started bleaching it out. The photo on the right is how it looks now. As you can imagine, it's taken quite a toll on my hair; and I'm happy to say that this coconut oil has been a big help in taming my frazzled tresses. And I still have more bleaching to do before I can get an even color – so you can bet I will be using a lot more of this coconut oil hair treatment!
Gold Label Virgin Coconut Oil for Hair Treatment is available online for $19.95. And if you do decide to purchase some because of this post, I'd appreciate it if you could give me a shout-out and cite my user ID (5043098) under "Referred by", as I am participating in their referral program.