Recently, I told you about the problems we've been having with vandals destroying our car windows and what we've done about it. I mentioned that I would update you again in August to let you know how our security cameras were doing and if we had further issues. I am happy to say that in this instance, no news is good news! We have not had any further issues with destruction of our property since my last post. The vandals haven't tried anything for two months now, and I do believe that our efforts have sent a message that we will not be easy targets. Hooray!!!!
Having two D-Link Day/Night DCS-932L Home Surveillance Cameras installed – one overlooking the porch and one overlooking our new driveway – has definitely gotten people's attention. The blinking lights on the cameras attract people's eye even in the dark, along with the large sign I bought announcing that there is surveillance in progress. I think this helps to act as a deterrent to the kind of louts that would destroy property just for fun, as they often prefer "Easy" targets; and if they do come back, we'll have more to go off because we could deliver photographs of them to the police.
We've only had one unexpected visitor so far this month: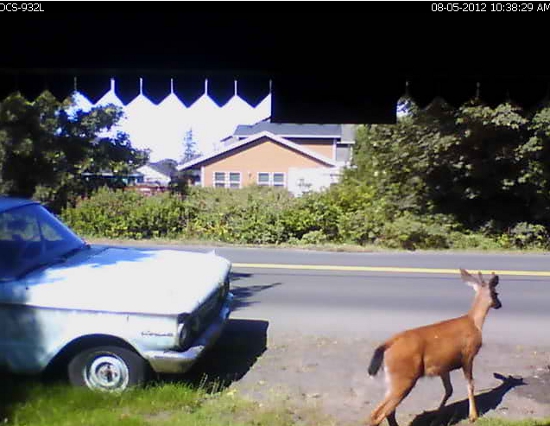 Look at this little deer who wandered into our yard! Awww!

Besides capturing photos of cute little animals, these cameras serve us well in the daytime as we can easily flip between a view of the driveway and our door to anticipate FedEx deliveries, etc. I'm very glad to have cameras in both areas, as this helps protect and secure our property all day and night. If I'm gone for a few hours in the afternoon, for example, and a package gets left on my door, I highly doubt anyone will take the risk to steal it in broad daylight while being filmed. These cameras are wonderful both for monitoring property, deterring criminal activity, and giving you more information in the event that anything every does happen. I would highly recommend these cameras to anyone, and now that I've had cameras, I don't think I'll ever be without them. It's sad that you have to go to such lengths to protect yourself, but I would rather take steps before more issues arise than be a target for disturbed individuals.
You can pick up one of these cameras for yourself for $129.99 – check out DLink.com for more info. I received two cameras for review purposes. Today is also the last day to enter to win a D-Link Day/Night camera of your own, so make sure you hurry and click here to check it out – entry is super easy and you could win this amazing product to protect your own home with!