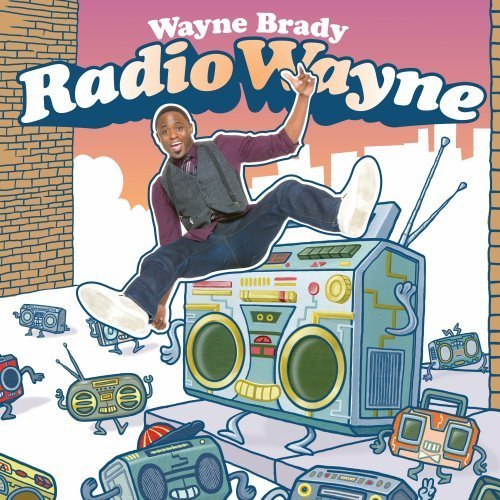 Comedian Wayne Brady is set to release his first children's album, Radio Wayne, on Walt Disney Records on May 31st. And to celebrate, three lucky Contest Corner readers will win a copy of Radio Wayne, so read on!
About the album:
Actor, singer and comedian extraordinaire Wayne Brady now adds children's entertainer to his resume with the release of Radio Wayne, his Walt Disney Records' debut children's album. Recreating the world of drive-time radio, Brady plays DJ Wayne on the album, talking to listeners while introducing a hot mix of songs designed help kids with everyday life lessons. Radio Wayne will be available exclusively on Amazon.com starting April 19, then arrives at retailers nationwide and online music stores May 31.

Produced and arranged by the Heavyweights (Jack Kugell, Jamie Jones and Jason Pennock) Radio Wayne features 14 songs, with all of the original tracks co-written by Brady. Touching on a range of musical styles – from jazz and reggae to blues and hip hop – Brady sings about good manners ("Say Please," "Wash Your Hands"), good habits ("Reading Can be Fun," "You Are What You Eat") and just plain having fun ("Hide and Seek," "Hip Hop Stop").

The project was inspired by the good times Brady has shared with his daughter, Maile and his commitment to being a parent. "In this day and age, kids are far more mature for good and bad than children of any other generation," says Brady. "You have 6-year-olds who can quote Lady Gaga's lyrics. That's why I did this CD. I wasn't happy with a lot of what my daughter was listening to. We decided to make songs that are as dance-worthy as other Top 40 songs."

Songs on Radio Wayne include:

1. "Imagination" – a jubilant pop salute to every boy and girl's greatest asset: their minds.

2. "The High-Low" – a breezy, hip-hop track about a brand new dance, guaranteed kid-tested and fun.

3. "Good Morning (All Over the World)" – drawing on languages like Japanese, Italian and even Hebrew, Wayne teaches kids that simple phrase that makes anyone smile.

4. "Say Please" — a funky, James Brown-flavored appeal for common courtesy.

5. "Talk to the Animals" – Wayne's mooing, chirping, oinking remake of the Oscar-winning classic from the film "Doctor Doolittle."

6. "Greedy Gus" – a funny jazz piece about a naughty child who never wants to share.

7. "Let it Out" – a punchy hip hop song that helps kids deal with angry feelings.

8. "Reading Can Be Fun" – a touch of Sly Stone graces this upbeat track about the joys of reading.

9. "Wash Your Hands" – Wayne's hip-hop take on an important message for kids.

10. "You Are What You Eat" – a rap about good nutrition.

11. "The Music Song" – fun never sounded so bluesy, as Wayne and the kids build a song note-by-note, instrument-by-instrument.

12. "Hide and Seek" – it's not Outkast, it's Wayne and the kids playing everyone's favorite childhood game.

13. "Monster in My Closet" – what's the best way to deal with childhood fears? Laugh at them, as Wayne does in this catchy pop gem.

14. "Hip Hop Stop" – a high-spirited rap version of the old game, Red Light Green Light, wraps up Radio Wayne.

A multiple Emmy® winner, celebrated comedian and Grammy®-nominated singer, Wayne Brady is one of today's most versatile entertainers. He first burst on the scene as star of the improv comedy show, "Whose Line Is It Anyway?," which led to his hosting "Don't Forget the Lyrics," his own "The Wayne Brady Show," and currently "Let's Make a Deal" on CBS. He's also been a featured guest star on shows like "30 Rock," "How I Met Your Mother" and "The Chappelle Show."

As a singer, Wayne released his solo album debut, A Long Time Coming, in 2008, while making his Disney debut that same year with a cover of "Tiki Tiki Tiki Room" for the Disney Music Block Party compilation.

Radio Wayne will be available April 19 at Amazon.com. The nationwide release will be available wherever music is sold on May 31. For more information on Walt Disney Records' releases, please visit Disney.com/music, become a fan at Facebook.com/disneymusic or follow us at Twitter.com/disneymusic.
Giveaway time!
THREE lucky Contest Corner readers will win a copy of Radio Wayne! Here's how to enter:
1. For your first entry, just leave a comment on this post and tell me why you'd like to win! This step is required to qualify for the drawing.
Want extra entries? Do any of the following, and leave a separate comment for each one:
2. Write a post on your blog linking to this giveaway and Walt Disney Records. Then come back here and leave me the link!
3. Write about this on Twitter, then come back and leave me the link to your tweet! One Twitter entry per person. You can use the button at the bottom of this post to tweet with one click!
4. Subscribe to my blog updates by clicking here. Then come back and leave me the email you subscribed with!
5. Become a follower of my blog by clicking the "Follow" button in my sidebar! Then come back here and let me know in a separate comment!
6. Post my button on your website – just copy and paste the following code, and let me know where you put it:
Rules, regulations, and other important stuff:

Giveaway ends on May 26th at 11:59 PM, PST. Winners will be chosen the following day via Random.org. Winner has 48 hours to respond to my notification email, or a new winner will be chosen in their place.
Giveaway is open to US residents. I received no compensation for this post – other than the joy of giving a prize to one of my loyal readers!