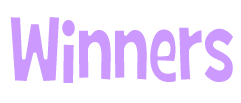 Click here
to view a full list of Contest Corner's lucky winners.
I get the most awesome emails from my readers! Karen of
Frugal RI Mama
won my
Mitchel Musso CD giveaway
, and
wrote this blog post all about it
. She also included this precious video of her daughter dancing to it and saying "Thanks Beeb"! How adorable!!
—
Amy, winner of the Harry Connick Jr. "Your Songs" album, added Contest Corner to her "Winning Blogs" list and also wrote this great review of the CD!
—
Reader HJ, winner of the Profoot Gift Bag, has been enjoying the products and blogged about them here!
—
Reader Jo, winner of the 39DollarGlasses giveaway, took a photo of her glasses and blogged about it here!
—
Did you win big on Contest Corner? I'd love to hear from you! Feel free to email me your photos and stories, and we'll feature them here in the Winner's Circle!