It's been eight fabulous months and counting on Nutrisystem! In this month's video, we discuss the New Year, recovering from holidays and flu, and our goals for 2013!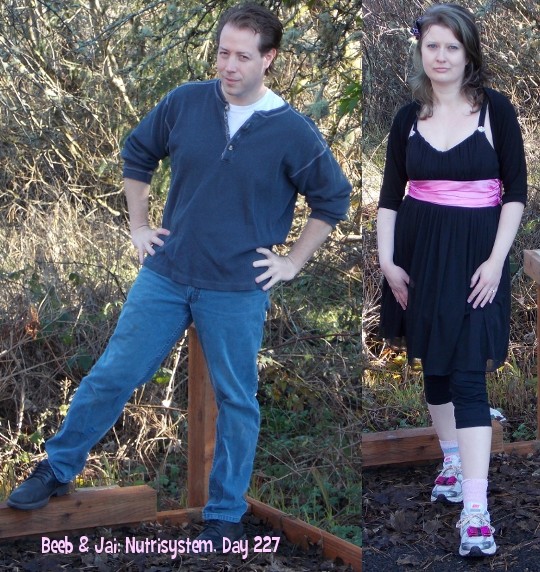 Beeb's Weigh-In: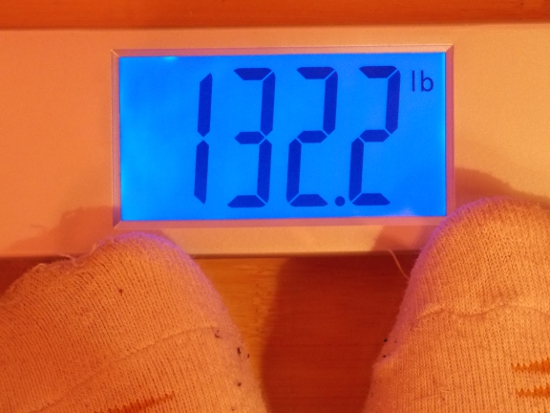 Starting Weight: 164.5 lbs
Week 32 weight: 132.2 lbs
Total Weight Lost: 32.3 lbs
Goal Weight: 110 lbs
Beeb's Measurements:

Jai's Weigh-In: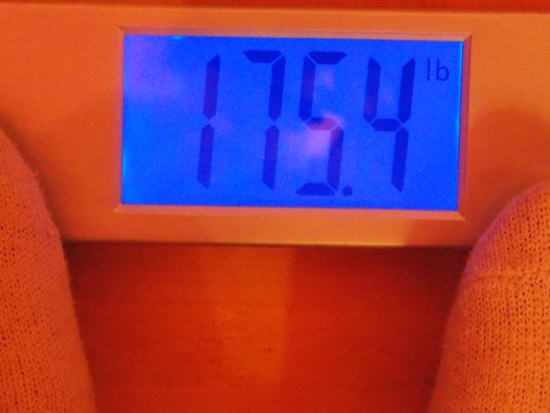 Starting Weight: 217.5 lbs
Week 32 Weight: 175.4 lbs
Total Weight Lost: 42.9 lbs
Goal Weight: 158 lbs
Jai's Measurements:

So this week, I lost .8 pounds while Jai had a slight gain of .4 pounds. Not only have I crossed the 30 pounds mark, but as of this week I have lost 32 pounds in 32 weeks! I'm really feeling a difference and I'm so excited to be in the low 130s. When I think back to the start of our journey 8 months ago, I was having trouble just walking around. To be able to lose weight like this while my body was really struggling is really amazing.
This week, Jai and I assessed where we're at to see what tweaks we could make to stay on track and keep up our progress. One thing we realized has been a challenge is that over the last few months, I've been buying less and less groceries to supplement the Nutrisystem plan – last week, we had no veggies or fruit in the house and not much in the way of PowerFuels of SmartCarbs. A big no-no, and naturally we've been finding ourselves getting hungrier and more prone to going off plan because we're not keeping ourselves properly nourished. We've been on a tight winter budget, so I'd be lying if I said it hasn't been tempting to skip buying additional groceries and put the money towards other bills instead. But this has been making progress more difficult, and not only do I want to lose weight during this journey, but I want to cement good eating habits, too. So this week I stocked up on oranges, bananas, carrots, meatless patties and oatmeal for SmartCarbs and peanut butter for PowerFuels.
We also decided to resume our gym membership next month. We've had our accounts on hold due to the expense, but we think now is a good time to start again. We're both so close to our goals, and the outlay of money now will help not only get us to where we need to be but, once again, help cement those good habits we're building. The gym also has equipment which I don't, such as balance bars that will help me as I get my knees used to bending again. The foul winter weather has made it more challenging to work out the last few months, but we've been taking advantage of the clear days this week to go for walks, which we've missed. I feel like 2013 is off to a good start, albeit a little chaotic!
As members of the Nutrisystem Nation Blogger Panel, Jai and I will be receiving the Nutrisystem program free of charge in order to share our honest opinions with you. Always consult with your physician before embarking on any weight loss or exercise program.

Want to lose weight and get healthy on Nutrisystem? Take advantage of their online support forums & community and join today by calling 1-888-853-4689 or by visiting Nutrisystem.com!