As members of the Nutrisystem Nation Blogger Panel, Jai and I will be receiving the Nutrisystem program free of charge in order to share our honest opinions with you. Always consult with your physician before embarking on any weight loss or exercise program.
It's hard to believe that it's already been 11 months on the Nutrisystem program. So much can change in such a short amount of time!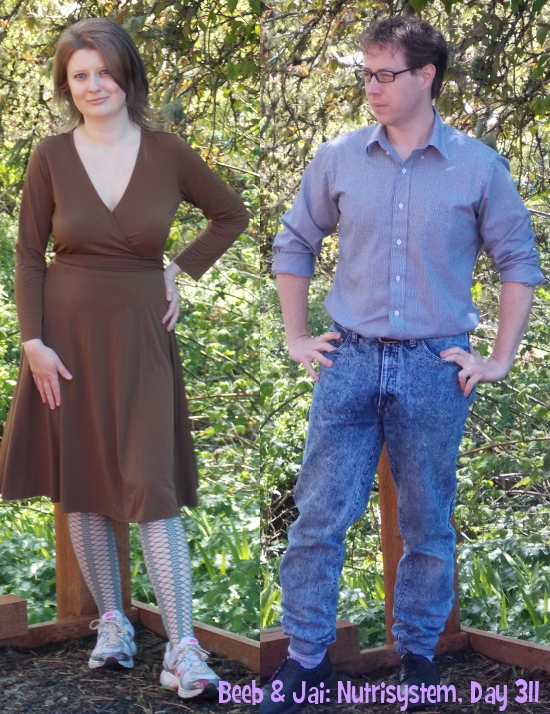 Beeb's Weigh-In: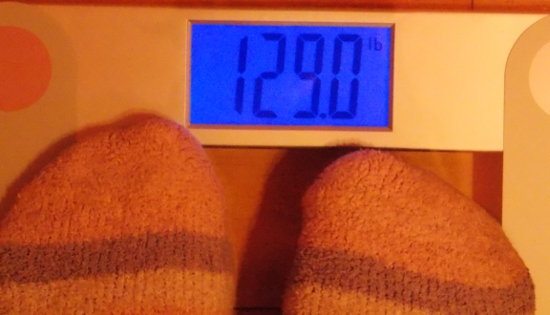 Starting Weight: 164.5 lbs
Week 44 weight: 129 lbs
Total Weight Lost: 35.5 lbs
Goal Weight: 110 lbs
Beeb's Measurements:

Jai's Weigh-In: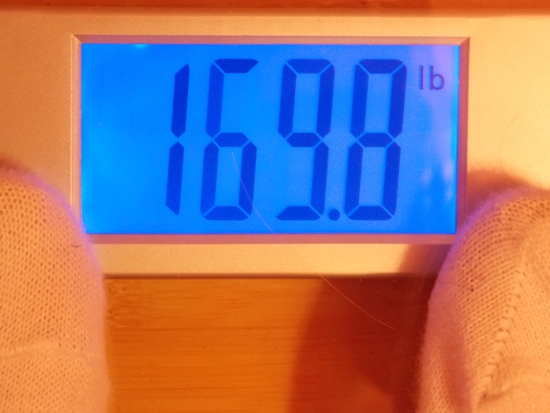 Starting Weight: 217.5 lbs
Week 44 Weight: 169.8 lbs
Total Weight Lost: 47.7 lbs
Goal Weight: 158 lbs
Jai's Measurements:

*Note: Jai weighed in on Saturday this week, while I ended up weighing in on Sunday.
This week, I lost .4 pounds and Jai had a slight fluctuation up of .2 pounds. Last week was a blur of taxes, paperwork, appointments, work, work, work, painting, and trying to navigate my torn-apart house with the couch in the kitchen and no chairs while we renovate. It's been an adventure, to be sure.

It has been hard for us both to try and keep at a normal schedule during such chaos – it's hard to eat normally when you're trying to prepare food in a construction food, and the exhaustion from all the work and stress has made me more prone to over-eating. I was reviewing some gummy-bear type chews last week, and let's just say, I reviewed several bags of them, along with some other off-plan moments for Jai and I both. Honestly, it's hard to stick to eating at regular times all through the day when your schedule is erratic, but this is just temporary while we deal with a lot of big headaches all at once. And that being said, even when I'm not eating ideally on Nutrisystem, I'm still losing weight and making progress – if this we had tackled this insane laundry list of projects this time last year, we would have been ordering pizza every day instead. Really, if we can keep progress up during bad times, that's the true indicator of sustainable success – this isn't the first time we've been overwhelmed, and it won't be the last!
The workload this week pretty much tanked our workout schedule, but we did get to the gym 2 days last week, which is better than nothing. My knees are doing FANTASTIC and I actually made some huge progress last week – I was able to ease into a lot of things I haven't been able to do since the injury, including hanging onto a balance bar as I practiced a low squat and kneeling down. Friday was the best workout I have gotten since my injury – I was able to do hang upside-down off one of the benches to do sit-ups, something I wouldn't have attempted even a few months ago. In April 2012, I had to stop and take breaks just while walking due to the pain and swelling in my knees. Just being mobile again is the greatest joy to me – being able to perform athletically on top of that makes me so incredibly happy. As I continue to regain flexibility, I'll be able to start doing things like jogging again – my goal is to be able to run on the beach this summer. I'm really excited to start getting muscle tone back and see how my body will tone up and change and the months go on!
As of right now, we have one full week left to go on Nutrisystem, after which point we'll be transitioning into preparing our own food again. With the amount of Nutrisystem food that we have left, it will scale: For the first week or so, it'll be homemade breakfasts with Nutrisystem lunches and dinners; then it will transition into homemade breakfasts and lunches with Nutrisystem dinners for a few weeks, after which point we'll be managing it 100% on our own. Managing portion size and coming up with a good meal plan on my own are really the final step in our journey. We've already radically changed our relationship to food, so taking the "Training wheels" off and doing our own healthy freezer cooking will help us piggyback on our Nutrisystem success and keep the momentum going.
There will be inevitable ups and downs. There are weeks on Nutrisystem when everything goes crazy and I eat an extra dessert or some snack that became available. There will be times like this off of Nutrisystem, too. The difference now is that we have worked really hard to address the core issues that cause overeating for us, which all boils down to our schedules. Having the burden of meal prep and shopping pretty much taken care of by the Nutrisystem allowed us incredible freedom and provided us with the extra time and structure needed to make these crucial changes, from getting more sleep to keeping to regular meal times to carving out time in the workday to go to the gym or otherwise be active. In today's world, finding the time for all of these things is becoming really, really difficult, and I can honestly say that Nutrisystem made all the difference in the world. I mean, imagine all the time you'd save not having to cook for 11 months!
Doing Nutrisystem hasn't just changed our weight, health, and self-esteem; it's also led to huge changes in our approach to work and life, and improved our emotional state of being and stress levels. Are things perfect? Of course not. But the huge changes we've made have been consistent. Now, when I have a crazy week at work where everything that can go wrong does, it throws me off for 1-2 weeks as I slowly fight to course correct and get back to a more regular schedule. In the past, one off week seemed to spiral and spiral into months of chaotic scheduling. What makes the difference here? FEELING the difference. Doing the healthy things doesn't turn your whole life around in one month, or even three. You see obvious benefits, but the core problems that we face – lack of time from work and other commitments – tend to override our personal health. But after 11 months of consistency, of sticking to a program, having a meal plan that was ready for us 24/7, the change has spilled to all areas of my life. I can think better, work more productively, have more energy, sleep better – EVERYTHING is better. For me, this was crucial in breaking this cycle, and is going to be the most important part when transitioning off Nutrisystem. In the past, I would go through phases of working hard to make healthy freezer meals, which would inevitably get dropped in favor of fast food after a while because I didn't have time. But now that I see how much more work I get done when I take better care of myself, I literally don't have time NOT to take care of myself. Eating well is just a business decision at this point. And yes, I realize how incredibly sad it is that it comes down to "I earn more money when I take care of myself", because that's not how it should be. We should take care of ourselves because hello, HEALTH! But I'm just being realistic here. With so many of us caught with tough decisions to make financially and on the personal front, we often feel no choice but to sacrifice our own needs temporarily..and sadly, that temporary state quickly becomes permanent.
Sometimes I say to Jai, "I wish we could have done Nutrisystem when things weren't so crazy." This past year has been so chaotic, and my goodness, the last 3 months have been nuts. I've had a hard time keeping on top of things diet-wise the last few months with my house torn apart by renovations, and we've had triple-whammies in every category, from work to huge projects to doing taxes to preparing to renew my green card to AUUUGH! I think anyone would be having a hard time keeping afloat at this point. In a way I feel like this is the worst timing for ending Nutrisystem because I'm not even going to have a kitchen in a few weeks when we start painting that room. But then I remind myself, this was actually the PERFECT time to do Nutrisystem, because this is the time in which we needed it most. Sure, it would have been quicker to lose weight on the plan if everything had been calm, but if my life were ever calm, I wouldn't need a diet plan would I?!
I'm sure it will be a big adjustment and I expect to see some fluctuations in weight the first month off Nutrisystem (Especially with no kitchen). But the nice thing is, Nutrisystem will always be there when we need it. I think it's important for us to prepare our own meals for a while and deal with those challenges to really cement the good habits we've built, but if it becomes too much what with the renovations and other insanity, we don't have to worry – we can always resume Nutrisystem as needed while we work out the kinks in our plans. Jai and I have a hard limit of no more than 10 pounds gained before taking action – it's not like we're obsessed with the number or anything like that, but we both know how QUICKLY weight will start to pile on, especially hot on the heels of a big weight loss, and I don't want to gain 30 pounds back in one month because I let it slide. If we gain 10 pounds, that's a sign that we need to pull the Nutrisystem emergency brake and address a problem in our habits. And even if everything goes absolutely perfectly? I still know that we'll go back on the program again on the future, just out of CONVENIENCE! It's so nice to know that there's an option available for busy work periods or times of crisis when cooking becomes really difficult. I'm really going to miss not having to cook every night!


Want to lose weight and get healthy on Nutrisystem? Take advantage of their online support forums & community and join today by calling 1-888-853-4689 or by visiting Nutrisystem.com.