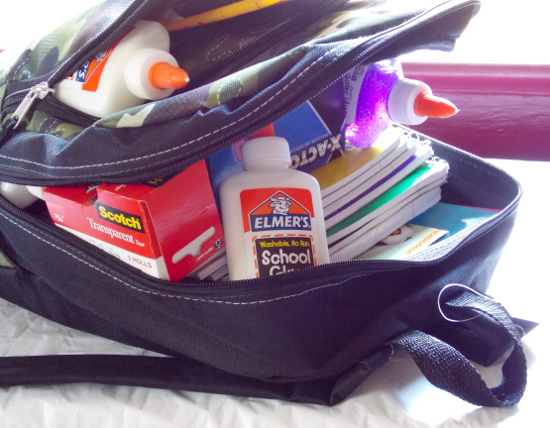 Click on the image to view it full-size
I am a member of the Collective Bias™ Social Fabric® Community. This shop has been compensated as part of a social shopper insights study for Collective Bias™ and Elmer's. #BagItForward #CBias #SocialFabric
Shopping for back-to-school supplies is a rite of passage this time of year. But while many children are getting excited to pick out a new lunchbox or sparkly pens, there are too many others who go without. And with budgets tight for everyone, it may seem like it's impossible to make a real difference. And that's why Elmer's started Bag It Forward, a wonderful campaign that aims to inspire communities to get involved. By coming together to share what we have – no matter how small that may be – we can easily make a difference for kids in need!
I recently had the opportunity to host a Bag It Forward Simple Service Party to collect school supplies for children here in Clatsop County. I printed up special invitations and invited my friends and family to join me in my home for coffee, tea, and conversation. I invited each guest to bring along a school supply item to donate to the cause, and since I'm Super Coupon Girl, I included a list of great deals on school supplies at local stores as inspiration.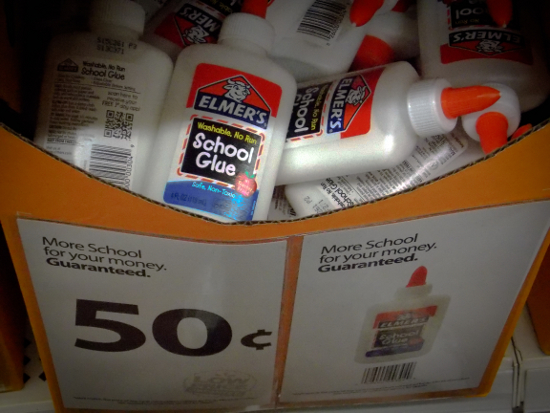 Click on the image to view it full-size
For my own donation, I headed over to Walmart on Saturday morning and was able to pick up a nice assortment of pens, pencils, crayons, tape, paper, notebooks, scissors, Elmer's Glue, Post-It Notes, an awesome X-Acto pencil sharpener, and a backpack for $25.48 total. I supplemented my donation with an educational DVD, storybooks and a CD, all of which were brand-new products that I received in connection with the reviews and features that I write on this site. Although these were all modest in terms of cost, they made for a surprisingly large backpack stuffed with things to donate!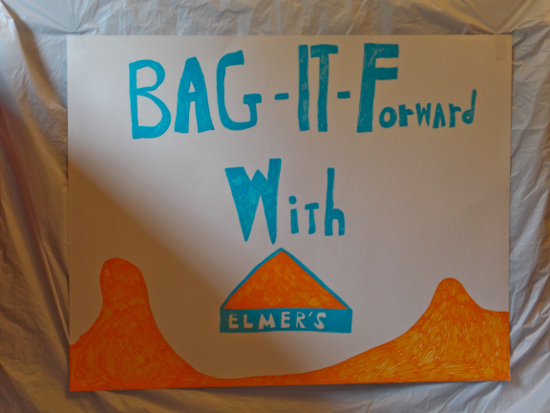 Click on the image to view it full-size
In preparation for my party, I used my Elmer's Painters Paint Markers to make this sign and decorate a box for the donations to go in! I set up one table for donations and one table for refreshments.
This week has been a crazy one with lots of twists and turns, so I wasn't sure how many people would be able to make it. August is such a busy time of year, and my guests had about a week of notice for my party. Plus, it was being hosted at 10 AM, which isn't prime party time for a lot of people. But I had a wonderful turnout! My family and friends all made a concerted effort to come, and I was so touched by their support and their incredibly generous donations.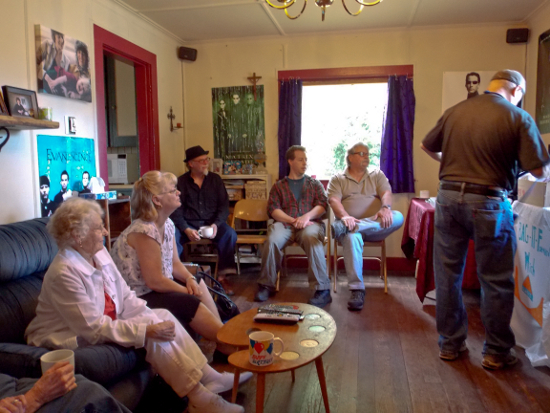 Click on the image to view it full-size
Each person had a unique and special contribution:
When my future father-in-law got the invitation, he went out and bought a ton of school supplies to donate totaling over $35!
Jai's aunt and uncle flew into town this week from out of state to attend our annual family reunion. They have both worked in the education field their entire careers, so this cause is especially important to them. I didn't realize this, but they heard about my party before they left, so they actually packed their suitcases full of school supplies and took them on the plane all the way from Arizona so that they could bring them to the party!
Two of our friends headed to one of the stores listed on my invitation and picked up a big bag full of stuff. They said they were shocked when their total after sales was only $3 – talk about making a big difference on a budget!
Grandma has been sick all week and never got a chance to leave the house or go shopping. But wouldn't you know it, she looked in her office supplies and found a beautiful, brand new box of oil pastels, so she brought that to the party!
I can't tell you how touched I was by everyone's kindness and contributions. I feel so lucky to know such a wonderful group of people.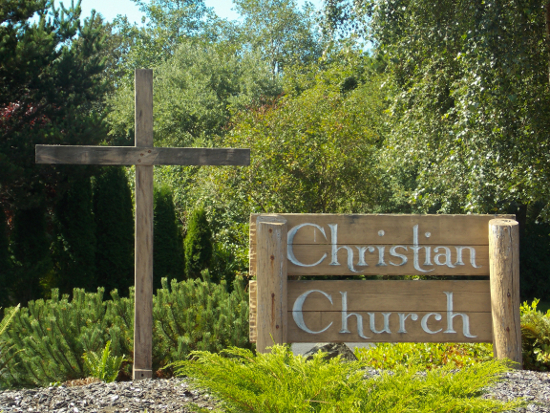 Click on the image to view it full-size
The organization that I decided to benefit was the Lighthouse Christian Church. Our aunt is very active in this church and so I often hear about the programs which the church runs. Because of this, I was aware of several different programs which they run which could definitely benefit from school supplies. After my party, we all drove over to the church to unload the items.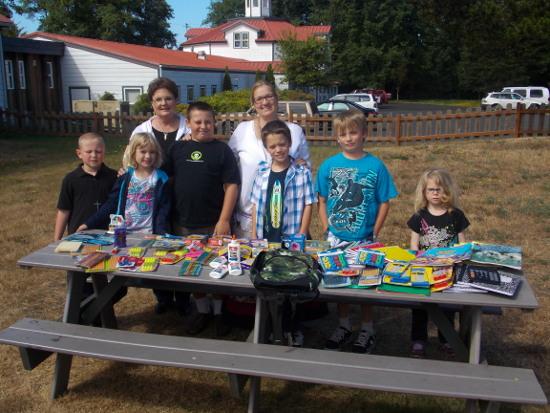 Click on the image to view it full-size
Here is some of the church's staff, along with the children from the Sunday school, posing with the items collected from my Simple Service Party. Look at all that stuff that my amazing friends and family brought! Everyone at the church was so happy and appreciative. Because they run various programs, they were going to divide these supplies up and distribute them according to greatest need. Some supplies will go to the Sunday school and Vacation Bible School, and some will be packaged up individually and given to families in the church who are in need of school items for their children.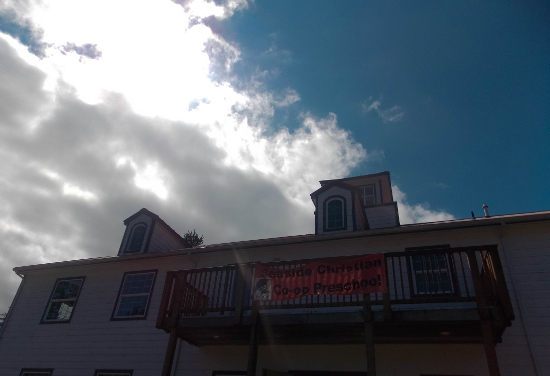 If you are in the local area and would like to help out, check out the Lighthouse Church Website for contact information and more about their programs. They always welcome donations.
More Photos
Click the thumbnails below to see more photos of this project and the donations that were collected: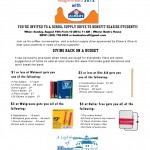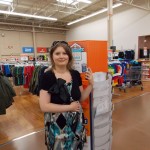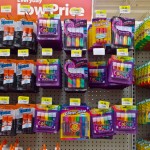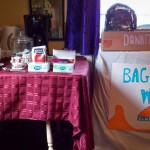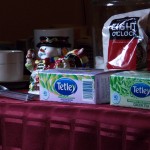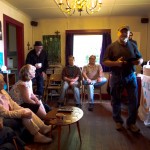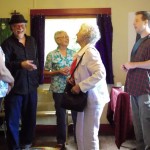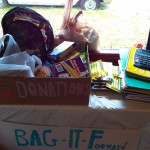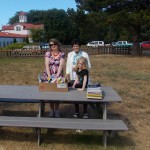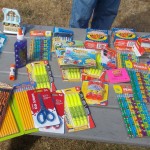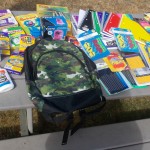 For more photos and details on my Simple Service Party and Bag It Forward, be sure to check out my Google+ Album by clicking here!
When we think of all the need in our communities, it's easy to feel overwhelmed. How can our small contributions really make a difference? But with a little help from our friends, our individual actions can add up to something big. You'd be amazed at how your inner circle of friends and family can come together to help you in your efforts to aid those in need. Even though it's hectic time of the year and guests had fairly short notice about my party, I was blown away by the effort they all made to join my early-morning party and how extremely generous they were.
And Elmer's is making it even easier to give back – even if you don't have a penny to spare – through the Elmer's 1st Day app. For every photo uploaded through the app, Elmer's will donate one product to the Kids In Need Foundation, up to 200,000 products. How fabulous is that?! And in addition to helping a great cause, this app is also a fun way to capture and share those special photos of your kids heading back to school! You can download the app by clicking here, or look for the 1st Day display in Walmart stores by the school supplies – you can download the app while in the store just by scanning the QR code on the display!
For further inspiration on how you can #BagItForward and help out kids in your community, be sure to check out the Bag It Forward Pinterest board. And for even more ideas, check out Elmer's on Twitter and Facebook.