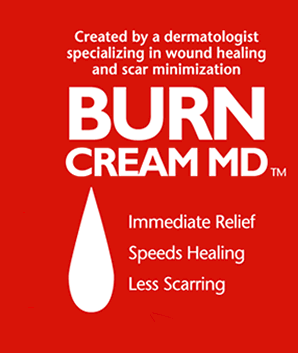 Burn Cream MD is a product designed to provide soothing relief of burns and aid healing. This product was created by a dermatologist named Dr. Diane Madfes, who was working at her family's restaurant as she attended medical school and witnessed many burns in the kitchen. Burn Cream MD is now used by prominent chefs such as Mario Batali and Emeril Lagasse – and now you can try it for yourself! One lucky Contest Corner reader will win a box of Burn Cream MD To Go, so read on!
Burns are a painful part of life – they happen to all of us at one point or another. I've treated my fair share of minor burns, and I think it's a good idea to have something handy in your bathroom cabinet that you can use to treat them. I usually just use a bottle of aloe vera gel, although there's been times when that wasn't enough and I had to make a trip to the store to find something stronger. That's why I was interested to learn about Burn Cream MD, which was designed for just this purpose. This product says that it provides pain relief, aids in healing and minimizes scarring. I received a box of Burn Cream MD To Go, which contains 10 single-use packets. I think this is brilliant – the sachets are designed to be portable, so you can tuck them in a first-aid kit, an emergency supplies box, your purse, the glove compartment of your car, and anywhere else you can think of! I haven't gotten any burns since receiving this – thank goodness!! – so I have not yet used this product to treat a burn, but I am so glad to add this to my first aid supplies. Also, I'm sure this goes without saying, but this product is not designed for third degree burns!
Giveaway Time!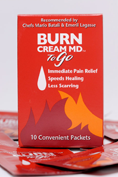 One lucky Contest Corner reader will win a box of Burn Cream MD To Go, containing 10 packets of cream (2 ml each). Here's how to enter:
1. For your first entry, leave a comment on this post and tell me: Do you keep anything in your first aid kit to treat burns with? This step is required to qualify for the drawing.
Want extra entries? Do any of the following, and leave a separate comment for each one:
2. Write a post on your blog linking to this giveaway and Burn Cream MD. Then come back here and leave me the link!
3. Write about this on Twitter, then come back and leave me the link to your tweet! One Twitter entry per person. You can use the button at the bottom of this post to tweet with one click!
4. Subscribe to my blog updates by clicking here. Then come back and leave me the email you subscribed with!
5. Become a follower of my blog by clicking the "Follow" button in my sidebar! Then come back here and let me know in a separate comment!
6. Post my button on your website – just copy and paste the following code, and let me know where you put it:
Rules, regulations, and other important stuff:

Giveaway ends on October 31st at 11:59 PM, PST. Winner will be chosen the following day via Random.org. Winner has 48 hours to respond to my notification email, or a new winner will be chosen in their place.
Giveaway is open to US residents, 18+. This article is provided for entertainment purposes only and is not intended to diagnose, treat, cure, or prevent any illness or medical condition.