This post is sponsored by ChicaLogic.
ChicaPC-fix is a PC Optimizer from ChicaLogic, designed by women for women. ChicaLogic's goal is to empower everyday users with simple-to-use software. I was sent a complimentary activation code to try out the software, so I installed it on my laptop, which has a fresh Windows install and has not had any optimization programs run on it yet.
ChicaPC-fix was easy to install and comes with a straightforward, easy-to-use interface. I ran the PC Health Scan, and it came up with 982 errors.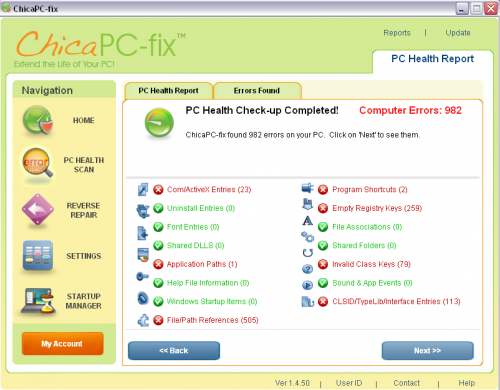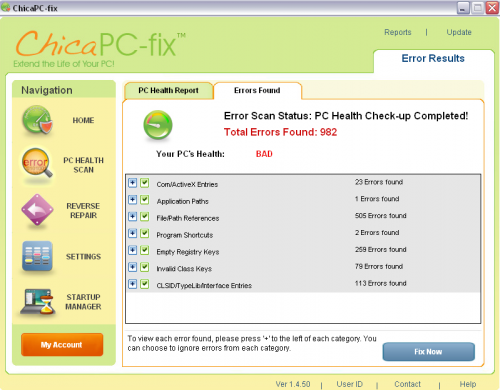 Upon selecting the "Fix Now" button, the program rapidly cleaned out 200 megabytes of system files. The entire process was very fast and simple.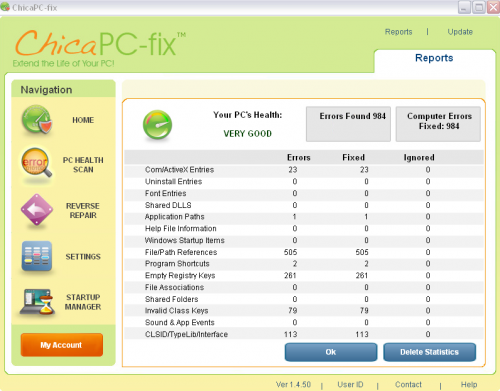 ChicaPC-fix does a good job of cleaning problematic areas that affect all computers, such as unnecessary registry entries and temporary files. While other registry cleaner programs may be more thorough, ChicaPC-fix is good for the everyday user because it is easier to operate and will not clean out areas that could cause potential problems. Each computer has different circumstances and some users will have areas they don't wanted cleaned, such as saved passwords. It can be dangerous to use a program that wipes everything clean if you're not equipped to troubleshoot potential errors and damage that could arise by removing a lot of system files. By using ChicaPC-fix, you don't have to worry that you might "Break" something or cause problems.
For the average user, I think ChicaPC-fix would be a great way to keep your system cleaned out in a fast, safe manner.
Want to get a free checkup for your computer? Click here to run ChicaLogic's PC Health Check for free.
This giveaway is now closed.
Congratulations to the winners – monique, Jill H, nancy Reid, Maureen, Dina, betty barnhart lockhart, Lee, Suzanna60, nolie, Tiffany, Debra P, Katie, Hope L, Lucy @ The Ultimate Gift Guide, Jeana (StuffSmart), Jacqueline, Holly Lawson, Julie L, Mariel, and Debbie! Congratulations!
The first 20 people to leave a comment on this post will win a one-year license to use ChicaPC-fix! The activation key and download link will be emailed directly to the winners. Once the 20 license codes have been claimed, I will close comments on this post and announce the winners. Giveaway is open to entrants worldwide. One activation key per person. GOOD LUCK!