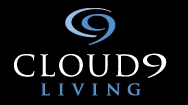 It's been said that the best things in life aren't things, a sentiment which rings very true. Although holiday shopping usually consists of finding a useful or fun item for the people we love, there is more and more of a movement towards non-traditional "Experience" gifts – such as buying a gift certificate so that your recipient can try something they've always wanted to do. There have been studies that suggest that those who spend their money on experiences, rather than products, are happier overall. While material items are not a bad thing, it definitely makes sense to me that those who are more focused on making memories rather than buying a ton of stuff for the sake of it have a more enriched life.
So when Cloud 9 Living offered me a chance to try a complimentary experience gift of my own, I was delighted to take them up on the offer and see what kind of adventures I'd have. They have a number of experiences available in Portland, and they all looked equally fun to me, so I asked Jai to pick which one he'd like to do. Since he has a life-long fascination with marine life, enjoys learning new skills, and also likes the water, it then seemed like a no-brainer to pick the "Discover Scuba for 2"! This experience consisted of scuba diving lessons at an indoor pool in the Aquatic Sports building on SW Barbur Boulevard.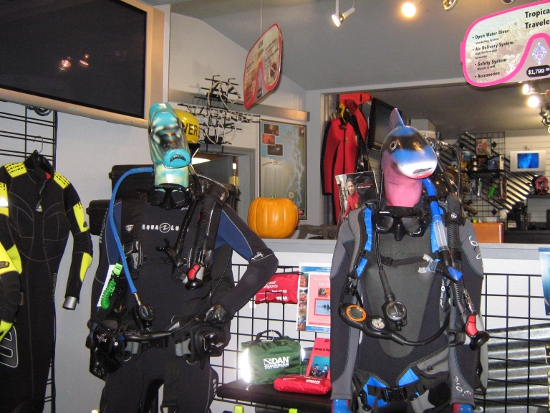 Our lesson took place on Saturday, and we were excited to see what it would be like! Aquatic Sports is a combination one-stop scuba shop with a pool for lessons and practice. It's a mellow location with very nice staff, which I liked – I wasn't sure if this was going to be like a busy public pool, so I appreciated that it was specifically for scuba divers.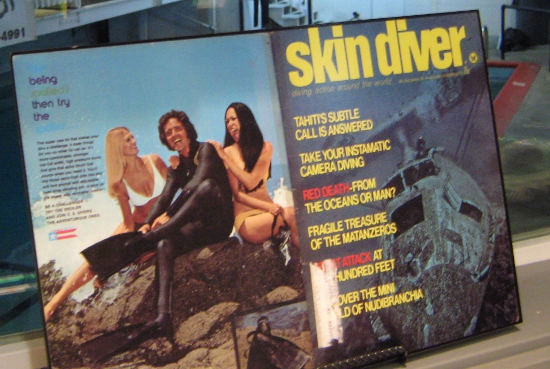 The store was full of interesting items, including covers from 1970′s scuba magazines to this great old helmet!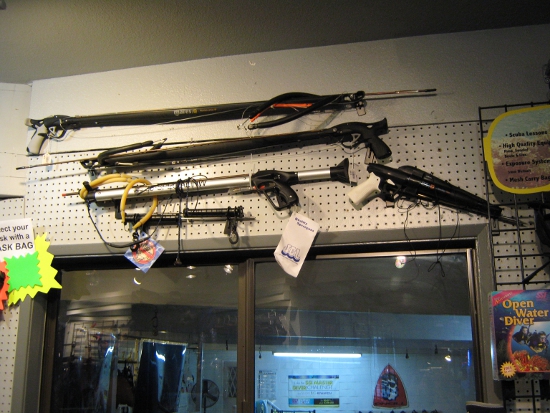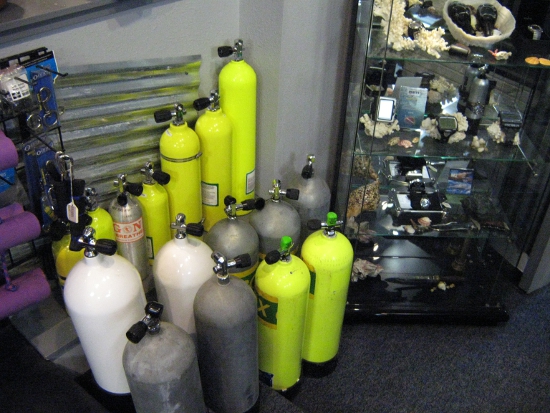 After we looked around, we sat down at a table made from a surfboard and filled out some basic safety forms. Our instructor then met us and told us to go ahead and change into our bathing suits and meet him down at the pool to get suited up.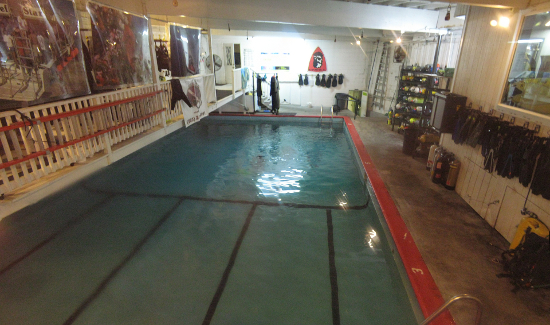 Click on the photo above to see a panorama that Jai took of the pool
First, he had us try on goggles to get the right fit, and then we got into the pool and put on fins, doing a few test laps to warm up. We then strapped on our packs – mine was pink, which I obviously loved!

The pack goes over your shoulders and contains equipment such as the air supply and your mouthpiece. It's quite heavy on land, but not so bad in water.
Our instructor walked us through some of the basic operation and we began dunking our heads into the water to get used to breathing with the scuba equipment. Jai and I have actually had really bad colds over the last week, so I was super congested, which made the experience of trying to breathe underwater a little more disconcerting. Breathing completely through your mouth takes some getting used to, and I realized I had to pace my breathing a little differently that I would normally. At first, I was worried that I wouldn't be able to do it, because I felt panicky sticking my head under water and feeling short of breath while I adjusted. Although I knew intellectually that there was no way I could drown, the feeling of being underwater and struggling for air triggers that panicky lizard brain reflex! (Insert a "Harder to Breathe" joke here!

) However, the instructor was really nice and was fine with letting us go at our own pace – while I got comfortable with breathing underwater, Jai was able to swim around and do other things, so I was able to go at my own pace without holding anyone else up. We were the only two students in there, which was also nice!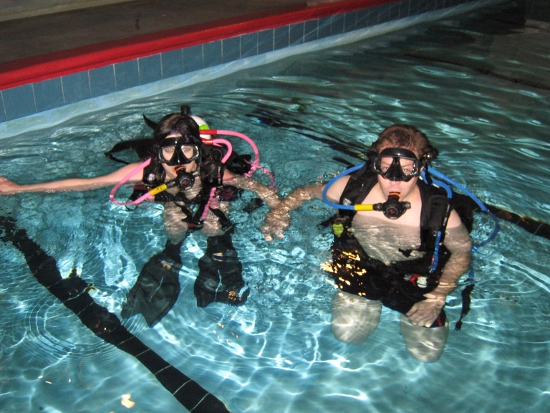 Since I was able to move at a rate I felt more comfortable with, I was able to relax and started getting comfortable the scuba gear and breathing. As we got into our lesson, the instructor offered to take us down into the deep end of the pool. He went over the process with us and said that it would be important to adjust the pressure in your head by holding your nose and clearing it, and also that once you get down further into the pool, you can't immediately rush to the surface if you want out because of the pressure. Because I was incredibly stuffed up, I didn't think it would be a good idea to try the deep end since I wouldn't be able to clear my head as required, and the idea of being stuck in the deep end without having the option to immediately get back to the top was not at all appealing to me. So Jai and the instructor went into the deep end and I stayed in the shallow end and continued to practice breathing. This was absolutely perfect for me, because I was able to learn all the important aspects of scuba diving without having to do anything scary or uncomfortable. Really, I think getting comfortable with the process is the most important part – once you do that, swimming around will just come naturally. I saw underwater in the shallow end like a mermaid and watched Jai and the instructor swimming around in the deep end – it was really fun and neat!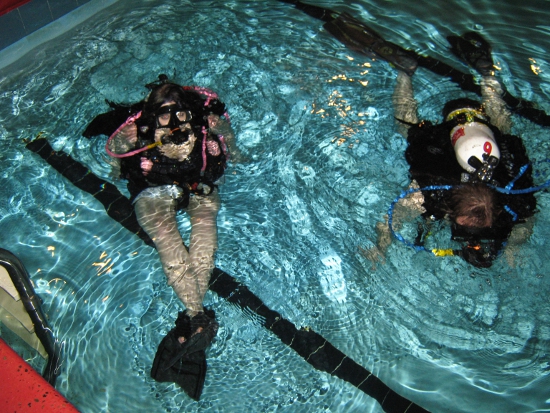 Thanks to our awesome scuba instructor for taking these photos of us scuba diving!
Jai was a natural, as I had expected. He said that he'd already spent time thinking about what the process must be like and imagining how all the equipment works – he's very analytical like that – so when he got in the water, it all worked just like he thought it would and he was off and running, er, swimming that is! He really enjoyed getting the opportunity to learn more about scuba diving and have a chance to experience what it's like. We both feel like we gained a useful skill that could come in handy down the road as further opportunities present themselves. I absolutely hope to go scuba diving again!
The Cloud 9 website mentioned on the booking page that the lesson averages between 1 and a half to 2 hours, but ours actually lasted about 45 minutes. We definitely got a lot out of our time – it would have been nice if there was maybe more structure or information about the timing of the lesson, as I would have used some of my time in the water a little differently if I had know what the scheduling was going to be. But we got a lot of great information and experience out of it and really enjoyed meeting all the nice staff at Aquatic Sports. Jai has always wanted to try scuba diving and I'm always down for a new adventure!
Last but not least, I was thrilled that I could even consider doing this. A few months ago, I was still struggling to walk with my knee injury – and now I'm scuba diving! If that's not progress, I don't know what is! I even kneeled down in the pool at the beginning of the lesson – and I pretty much haven't kneeled down since I hurt knees in the first place. So I'm thrilled that not only did I have the chance to experience this new adventure, but that I am even in the kind of health to be able to try it at all! What could be better?
If you have the resources to consider an experience gift, I would definitely recommend it. We'll never forget our weekend scuba diving – it gave us skill and memories to last a lifetime!

To check out all of the experience gifts on offer, visit the Cloud 9 Living website to see what is on offer in your area. The "Discover Scuba For 2″ retails for $125; and for those of you in the local area, be sure to check out Aquatic Sports at 10803 Southwest Barbur Boulevard in Portland, Oregon.
9 Days of Christmas Contest
Want to win your own unforgettable experience? From December 16th through the 24th, Cloud 9 Living is hosting a "9 Days of Christmas" contest where they will give away a new experience gift each day. The prizes include everything from a golf lessons from a PGA pro to a dinner cruise to the grand prize of becoming a fighter pilot for a day! You won't want to miss out, so click here for all the entry details.