In my article "Blog Giveaways: How They Work", I addressed the question that many people have: Are blog giveaways really fair? I'm putting together a series of articles that will explain exactly how the winner selection process works here on Contest Corner, so that entrants can learn how blog giveaways work and see firsthand how winning entries are chosen. As I was writing these articles, it occurred to me that it would also be useful to share a tutorial illustrating some of my methods for verifying entries, as it could help out new bloggers who are just getting started, as well as provide some timesavers for long-time bloggers. I think it will also be neat for my readers to see the nuts and bolts of the winner selection process and learn just how I verify the validity of the entries I receive into my giveaways!
The first topic I'd like to cover is Google Friend Connect. This popular widget allows readers to "Follow" a blog and keep up-to-date with their latest posts. This has become a popular way to gain entries into blog giveaways; if you enter a lot of giveaways here on Contest Corner, you'll see that I offer an extra entry on almost every giveaway for anyone who follow Contest Corner via Google Friend Connect (Or "GFC" as it's commonly abbreviated). So, when someone wins a giveaway on Contest Corner because of an extra entry for being a Google Friend Connect follower, how do I verify that they are following and qualify for the entry?
Back when I first started Contest Corner, this blog was hosted on Blogger.com and I had a small number of followers. Verifying their entries was easy; all I had to do was look at the user's Blogger profile and search for my blog name under their "Blogs I'm Following" list, or click the "Next" button on my widget to display all the users until I saw the username that matched the one left in the giveaway entry. Things got a lot more complicated when I moved my blog to WordPress.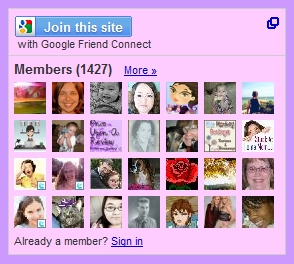 Since my blog is now hosted on WordPress, anyone can leave a comment with no registration required. This is one of the many perks of having a self-hosted blog, since it becomes much easier to comment and opens the comments up to a wider field of people. However, I ran into a stumbling block with this when I drew the winner of a giveaway who had won by following via GFC. Since the comments which my readers leave are no longer automatically tied to a Blogger profile, I was left clicking through my widget looking for the winner's username. I am fortunate enough to have 1,427 Google followers as of this writing, so finding the winner's profile was a long, tedious process. There was no way that this would be a practical way to verify winners in the future, so I set about finding an alternate method. After some searching through my Google Friend Connect panel, I discovered that I could download a spreadsheet that listed every single person who follows my blog through Google Friend Connect. Here's how you do it!
Download a Spreadsheet Listing Every User Who Follows Via GFC
First, you'll want to login to your Google Friend Connect dashboard – click here to access it. Now, click on the "Review community data" tab.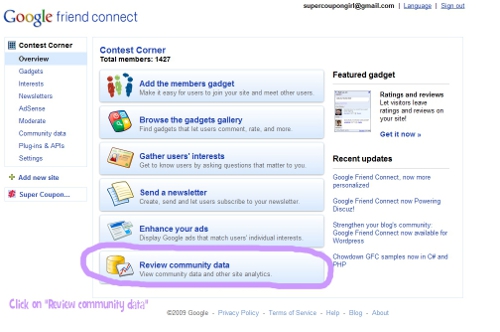 Click the screenshot to see it full-size
Next, click on the "Export community" tab.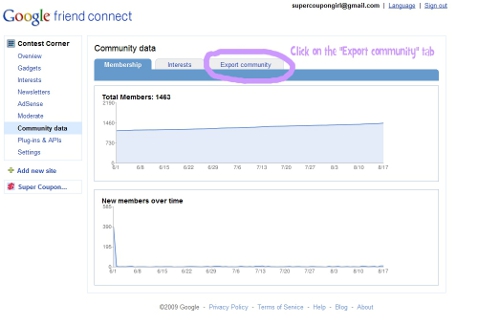 Click the screenshot to see it full-size
Now you'll see the following option: "You can also export your data in CSV format for spreadsheet analysis". Click on the link that says All interest data (CSV).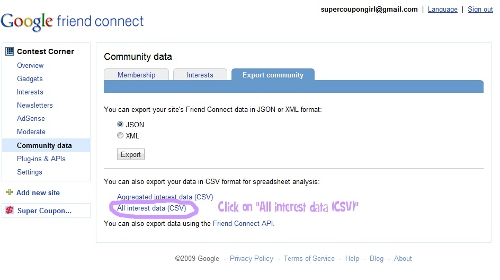 Click the screenshot to see it full-size
This will open a prompt where you can download this file & open it in your spreadsheet software. As you can see in the screenshot below, I use Microsoft Office Excel. (It came with the computer that I won!

) If you don't currently have a spreadsheet reader installed, you can get one for free at OpenOffice.org.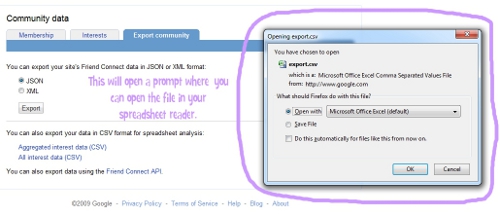 Click the screenshot to see it full-size
I click "Open" on the dialogue box, and it brings up a spreadsheet listing the username of every single person who follows my blog using Google Friend Connect!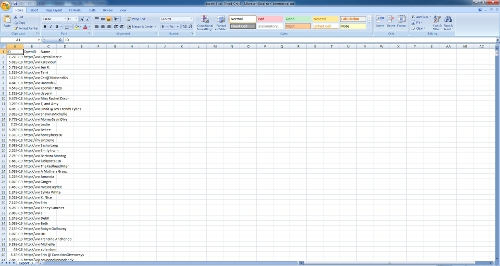 Click the screenshot to see it full-size
Now, I can verify anyone's Google Friend Connect follower status in seconds! All you have to do is press CTRL + F or click "Find" on the menu bar, and it will bring up a search box.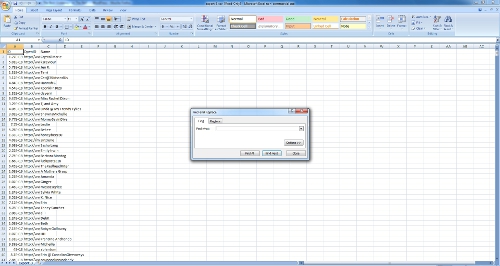 Click the screenshot to see it full-size
To find a user, simply type their username into the "Find" box. To show you an example, I am going to type in "Jai", which is my fiancé's Google Friend Connect username.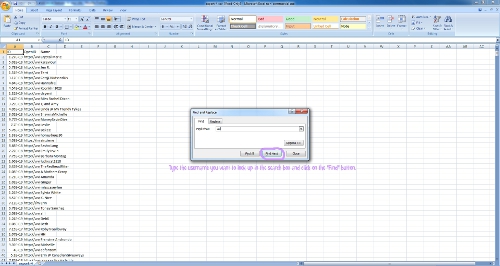 Click the screenshot to see it full-size
And hey presto! The username is located and highlighted. As you can see, my fiancé was follower #489!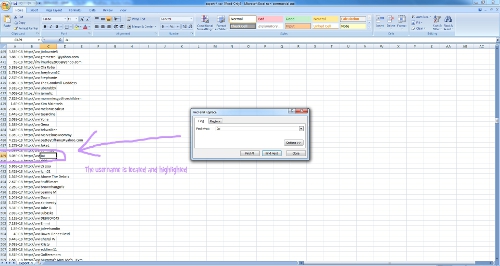 Click the screenshot to see it full-size
Now, any time a winning number is drawn for an entry using Google Friend Connect, I can verify that the entrant is following in seconds by using this method. Since the follower count changes frequently, I download a new spreadsheet every time I do this.
I hope this has been useful to other bloggers, and given my readers a fun little "Behind-the-scenes" tour! Fairness and accuracy are the cornerstones of giveaways here on Contest Corner, and every potential winning entry is verified carefully. I'll be sharing more of my methods in future articles, so stay tuned!