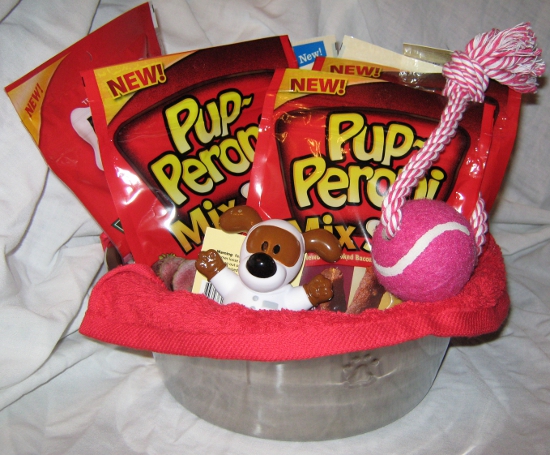 I am a member of the Collective Bias™ Social Fabric® Community. This shop has been compensated as part of a social shopper insights study for Collective Bias™. #CBias #SocialFabric #iLoveMyK9
Regular readers of this website are probably familiar with Bob, the loveable Labrador that Jai's Grandma owns. She got him as a puppy a little less than two years ago, and he's quickly become an important and adored member of the family. Grandma loves and dotes on him so much, and he gets incredibly excited when visitors come over to see him!
Over the last few months, I've received various samples of doggie foods for review that I've passed on to Bob for his expert opinion. Grandma frequently mentions how much she's appreciated me bringing over these items for Bob to enjoy. So when I was recently invited to participate in a project called "It's a Good Day to Be a Dog" from my friends at Collective Bias, it seemed like the perfect fit. The concept was to head to Walmart and create a fun gift basket of dog treats for your favorite four-legged friend. Not only did I know that Grandma and Bob would love to be surprised with something like this, but it was also the perfect thing for someone as obsessed with making gift baskets as I am. I love to put together my own custom gift baskets for holidays or special events like weddings and bridal/baby showers. I look for something practical to use as the gift basket itself – like a pretty laundry basket, quality Tupperware, bathroom caddy, or something similar that fits the theme of my basket – and I get a real kick out of packing it full of useful items arranged in an attractive manner. I've never made a present like this for a dog before, so I couldn't wait to make a special canine gift basket!
We headed over to the Walmart in Woodburn to run a few errands and pick up supplies to make the gift basket with. My concept for this basket was to take a cute dog food bowl and pack if full of the things that Bob needs most. I wanted to load it up with dog treats because I know that Grandma buys those frequently, and I thought it would be fun to pick up a few new squeaky toys that he could have fun playing with.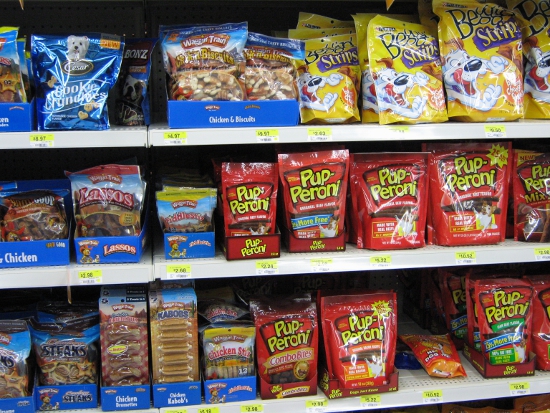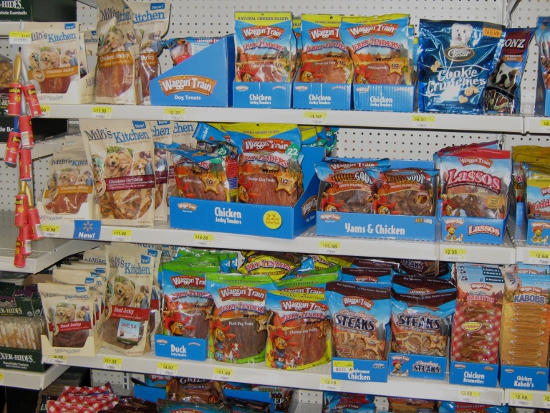 There was a big selection of dog treats to choose from! I had a few coupons for Milk-Bone Trail Mix that I had printed from MilkBone.com, and I also had two coupons for Milo's Kitchen Homestyle Treats that I found on Coupons.com. I picked up two bags of each brand, as well as three bags of Pup-Peroni Mix Stix. I also grabbed a tug-of-war tennis ball and squeaky toy to round out the gift basket, and packaged it in a metal food bowl with a cute paw print motif which I lined with a small red towel. Bob loves to roll around in wet grass, and Grandma has to towel him off before he can come inside the house – so I thought it would be nice for her to have a dedicated towel just for him!
After we got our supplies and finished our other projects in Woodburn, we packed up the car and headed home. To see a full recap of our trip and shopping experience, click here to view my Google+ album.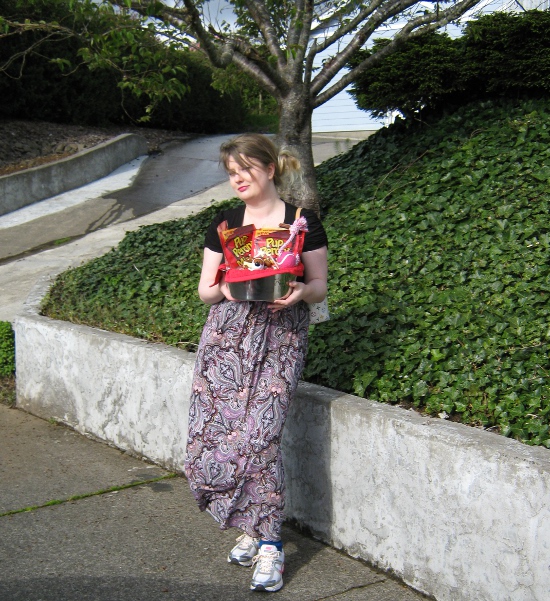 We gave Grandma a call and told her that we were coming over to bring Bob a little gift, and she was delighted. Here I am on my way to deliver it to her!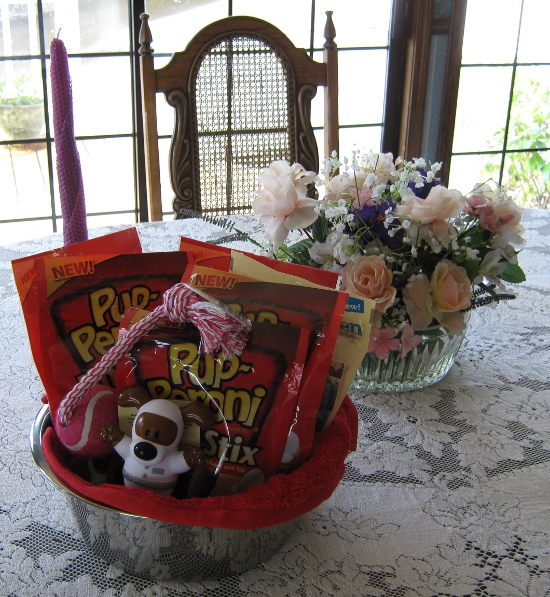 Grandma loved it, and we couldn't wait to take the gift basket outside to show Bob and see what he thought.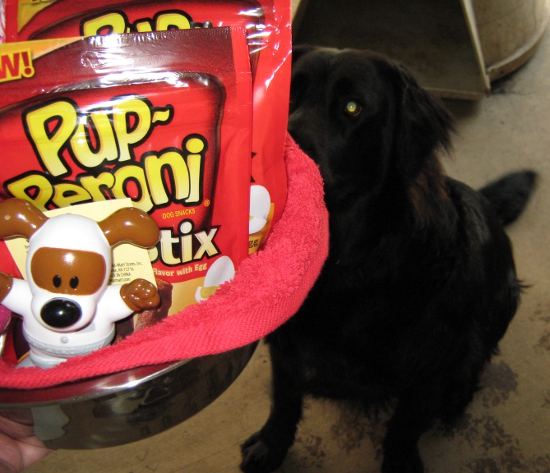 Bob was so happy to see us! He kept jumping up as Jai tried to take the picture – he seemed to think our camera was also a squeaky toy.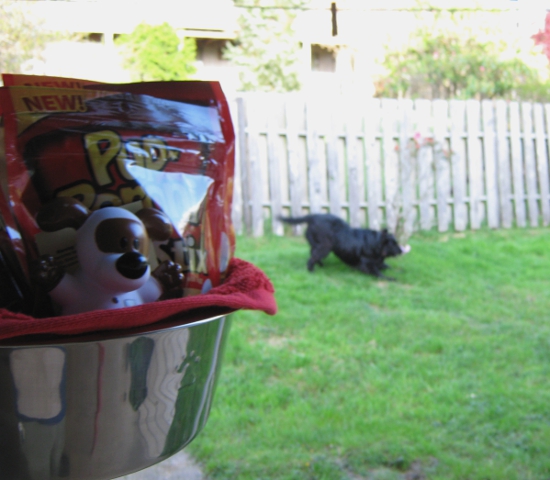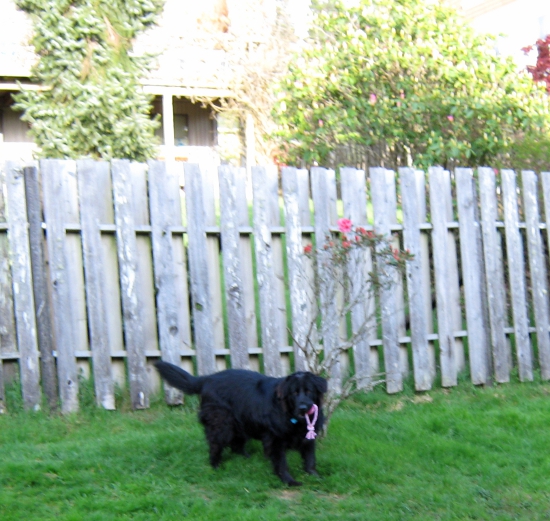 As soon as Jai gave Bob the tug-of-war ball toy, he went crazy with excitement trying to wrestle it away and then ran all over the yard with it.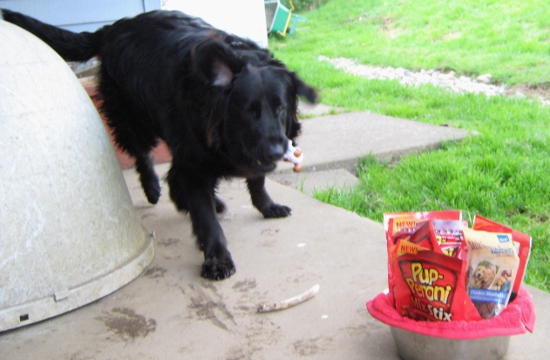 He also loved the squeaking toy, and jumped all over the place pouncing and chewing on it. Check out this action shot as he runs towards his goodie basket, ears flapping!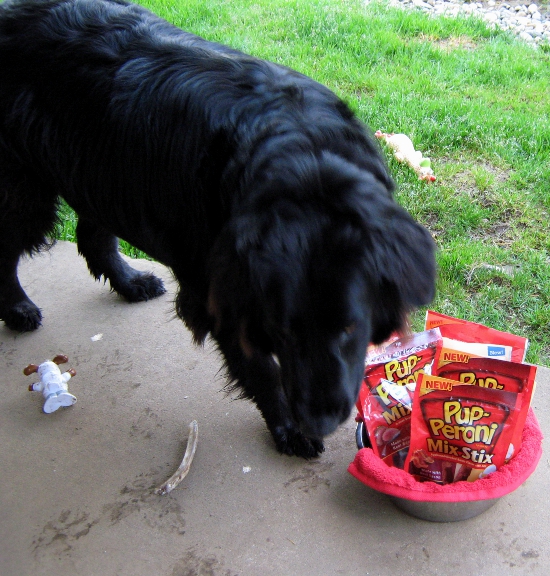 We put the gift basket on the ground to see what Bob would do, and he was well behaved – he didn't tear up the treat packages, even though they contained delicious snacks. He sat and stayed like a good boy, so his patience was rewarded with a Pup-Peroni snack – MMMM! (Jai said the Mix Stix smelled so good that he was almost jealous of Bob…hahaha!)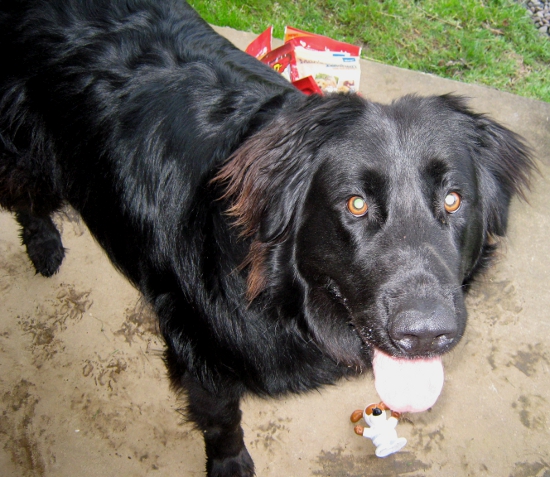 We had a great time visiting with Grandma and it was fun to see Bob go so crazy with excitement over his gifts. As we left, Grandma told us thank you and that "Bob thanks you from the bottom of his little heart too!"
For those of you who are social hounds (Get it?), you can keep up with the latest information and offers by following Pup-Peroni on Twitter and keeping up with the Milk-Bone Facebook and Twitter pages.