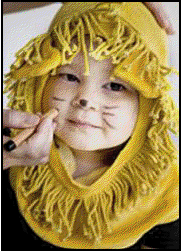 I recently attended a "Green Halloween" webinar, where we heard about all kinds of fun ideas for Halloween treats, costumes, and more. For my participation, I received a complimentary "Green Halloween Kit", a pumpkin tote filled with samples and goodies from Stretch Island Fruit Co and Dr. Sears Family Essentials. Included in the kit was a recipe for making homemade face paints using Dr. Sears Family Essentials diaper rash cream. That's right, you can make face paints out of diaper cream! Man, this would have come in handy during my heavily goth days.

Check out the recipe:
Ingredients:
1 tsp. cornstarch
1 1/2 tsp all-natural diaper rash cream
1-2 drops of natural/organic food coloring
1/2-1 tsp of water (depending on desired consistency)
Instructions:
In a small bowl, mix cornstarch, diaper cream and food coloring. If necessary, add water to achieve desired consistency.
More "Eeek-O Friendly" tips can be found at GreenHalloween.org.