Can you believe that we have already been on Nutrisystem for one month? Man, the time has flown! Jai and I have gotten off to an awesome start on the program. After one month, I have lost 5.1 pounds and Jai has lost 15.7!! Check out our video above where we recap what our experience has been so far – what's working, how we've approached it, our dietary challenges, and what we think of the food! Hint: I get to eat doughnuts and steak on Nutrisystem, so I'm a happy camper to say the least!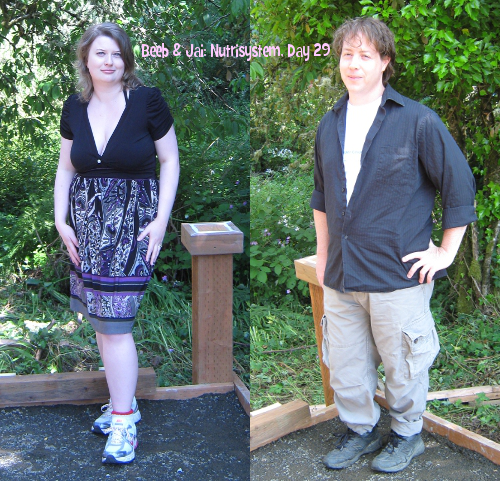 Beeb's Weigh-In: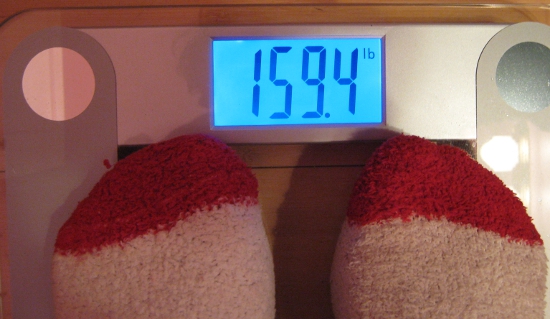 Starting Weight: 164.5 lbs
Week 4 weight: 159.4 lbs
Total weight lost: 5.1 lbs

I lost 1.6 pounds in the last week and have left the "160s"! Woo-hoo!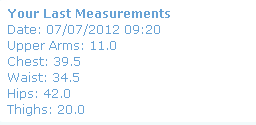 Here are my measurements, which you log at the end of each month. If you click here to see my Day 1 measurements, you'll see that I've lost inches everywhere except my arms. I've lost 1.5 inches on my chest, half an inch on my waist, 1 inch on my hips, and 1 inch on my thighs. We used our fancy new measuring tape this time, and it made the measuring process a lot easier!
Jai's Weigh-In: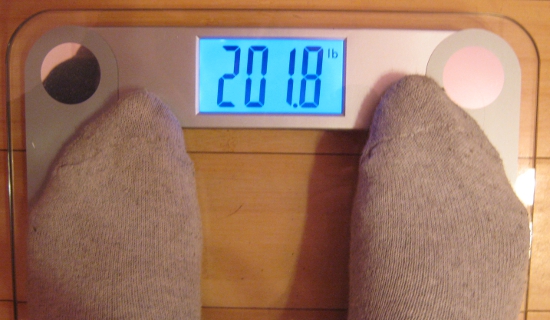 Starting Weight: 217.5 lbs
Week 4 Weight: 201.8 lbs
Total weight lost: 15.7 lbs
Jai lost another 4.2 pounds this week! Wow!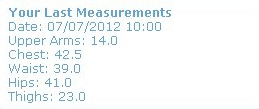 Here are Jai's latest measurements. He's lost 3.5 inches around his chest, 5 inches around his waist, 1 inch around his hips, and 2 inches around his thighs. The only area where the measurements stayed the same was around his arms – you can click here to see his Day 1 measurements. His pants have been getting so loose that they're almost too big now – and I can definitely see why!
We are both so happy and excited to have such consistent, speedy results! Nutrisystem has taken a big burden off of us just by providing ready-made food that requires no cooking and creates little dishes; and the fact that we are having no problems dropping weight has taken a massive mental burden off. Ever felt stuck because you need to get healthier but have no time? Or maybe you have medical problems that limit your ability to move around and work out? I hear you completely, because this was my life a month ago. Sure, the whole "I'm-too-busy" thing is often an excuse, but for many of us who are working 15-hour days and running from one task to another, you truly do get to a point where you become stuck. And for those going through a medical crisis, the weight gain that comes with a lack of mobility makes you feel sick and hopeless at times. Being able to lose weight with Nutrisystem even though I can't work out is amazing; and knowing I can have a consistent routine to rely on no matter how insane my work hours get is incredible. Nutrisystem has given us the ability to change our lives NOW, not someday in the future.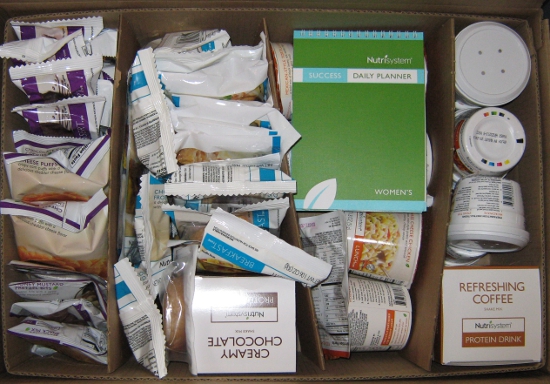 We also got our second order of Nutrisystem food this week. For our first month on the program, we went with the "Favorites" package, because we wanted a chance to sample the variety of things that Nutrisystem offers. Now that we've had a few weeks to try out different foods and get a feel for what the meal options are, we did a "Custom order" for this month's shipment. This means that you can choose your favorite pantry items and order exactly what you want. Jai and I both filled out an easy form and got to choose from delicious items ranging from chocolate muffins, doughnuts and biscuits and gravy for breakfasts to hearty pastas, pizzas, and even chicken and dumplings for dinner. I don't feel deprived of anything being on Nutrisystem – there's no "You can't have (X)", because everything's included, right down to snacks like cheese puffs and fudge brownies!
We've had a fabulous first month on Nutrisystem and we're so excited to see what results we'll get as we move into our second month in the program!
As members of the Nutrisystem Nation Blogger Panel, Jai and I will be receiving the Nutrisystem program free of charge in order to share our honest opinions with you. Always consult with your physician before embarking on any weight loss or exercise program.

Want to lose weight and get healthy on Nutrisystem? Join today by calling 1-888-853-4689 or by visiting Nutrisystem.com!