We just wrapped up our sixth week on Nutrisystem! The time is just flying by!
Beeb's Weigh-In: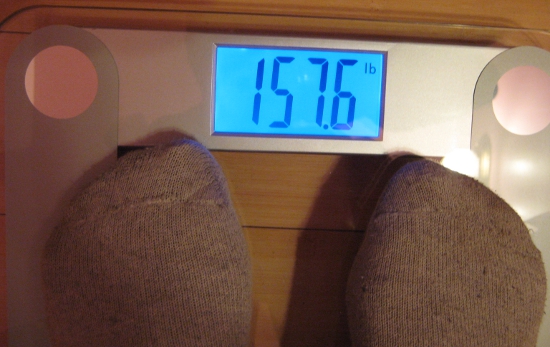 Starting Weight: 164.5 lbs
Week 6 weight: 157.6 lbs
Total Weight Lost: 6.9 lbs
Goal Weight: 110 lbs
We also took our measurements this week. I measured at 11″ on my arms, 39.5 inches on my chest, 34 inches on my waist, 41 inches on my hips, and 20.5 inches on my thighs. That's half an inch down on the waist, 1 inch down on the hips, and half an inch up on the thighs from the last time I measured. Both Jai and I measured half an inch bigger on our thighs, so I don't know if we measured in a slightly different spot from last time, are gaining muscle, or have just done something to mysterious bloat our thighs.

Jai's Weigh-In: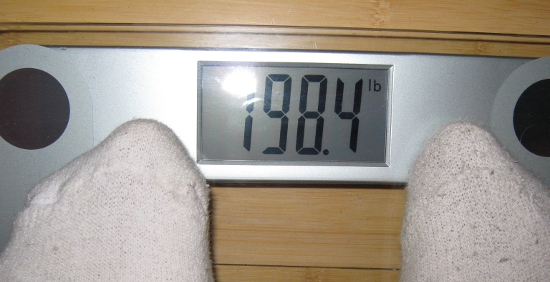 Starting Weight: 217.5 lbs
Week 6 Weight: 198.4 lbs
Total Weight Lost: 19.1 lbs
Goal Weight: 158 lbs
Jai's measurements for this week were 13.5 inches on the arms, 41.5 inches on the chest, 39 inches on the waist, 39.5 on the hips, and 23.5 inches on the thighs. That's 1/2 an inch down on the arms, 1 inch down on the chest, 1/2 an inch down on the hips, and half an inch up on the thighs as I mentioned above. I admittedly have a difficult time measuring in exactly the same spot every time we do this, so I'm sure there are some discrepancies in the numbers we take; I'm glad we're going to do this every week now, so that I can get a better overall picture and a better feel for the best way to measure accurately.
We had quite an interesting week with a lot of informative moments. As you might have noticed, our weight loss slowed a bit this week – Jai still did pretty good with 1.2 lbs, but at .2 lbs my weight loss was pretty microscopic. I'm not bummed, although it's not as much weight loss for the week as I would have liked, because any number going down is still moving in the right direction. And it was actually very illuminating to realize what has slowed us. We both realized on Thursday that both our weights had stalled at the exact same amount they were the prior week, so I started to think about what we were doing differently. We both follow the program exactly, and that's not an exaggeration – we only have Nutrisystem food in the house, literally, and we don't go out anywhere to eat, so the only food we put in our mouths is approved by the program. And we both stick to the portion sizes exactly, so there's no over-eating going on. In fact, the last few weeks I have been skipping most of my between-meal snacks, PowerFuels and SmartCarbs, simply because I've been busy or not hungry. I've actually been taking in even less calories than recommended for weight loss – so what gives? When I thought back on the week, I realized the biggest difference was that neither Jai or I had been supplementing with the 4+ servings of fresh veggies each day or drinking a lot of water (Although I drink coffee by the gallon so that counts in a way

). Not because we don't want to – of course every healthy diet has to have vegetables! – but it just got lost in the shuffle. (Can you imagine what we'd be eating if we were this busy and not on Nutrisystem? Ugh!) So we immediately made it a priority to snack on carrots and up out ice water intake. By Saturday's weigh-in, we had lost weight. Isn't that interesting? I'm no expert – by ANY means! – but I'm guessing that the reason the fresh veg and water were so crucial to speeding up weight loss is because they help keep your digestion running smoothly thus eliminating water weight or bloating. So, this was a helpful reminder that, yet again, we have to make our health a top priority in order to lose weight.
One big plus last week was that I did a lot better with regards to structuring my work schedule to make sure I can get enough sleep. I've been pulling very long hours and getting really burned out, well, for years! Ironically, I know this makes me less productive, but it's a constant battle. I kept saner hours this week and felt much more rested and able to function. I tried to take small breaks this week, too, so that I'd have more time to eat, make sure I was getting my carrots, refilling water, and that sort of thing. I may even take a day off sometime in 2013 if things go really well.

Since my weight gain is directly related to my intense work schedule, I know I have to slow down a tad if I want to lose weight and keep it off.
We had a few other cool experiences this week, too. You may recall that Jai got a makeover in the middle of the week: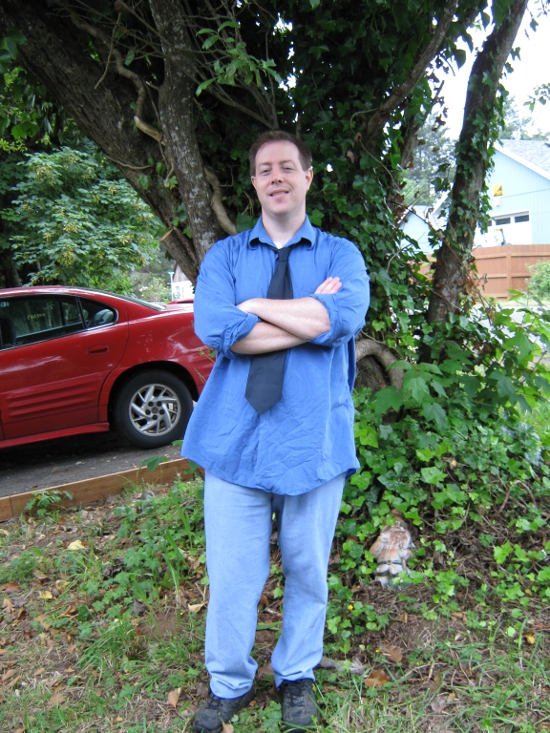 Jai's favorite part of the makeover was going through his old clothes in order to find things to throw away – and realizing that he actually fit into a lot of clothes he had "Given up" on wearing because they were too tight. I thought that was a really cool illustration of his progress, since it can be hard to have perspective when you're looking at your own weight loss achievements.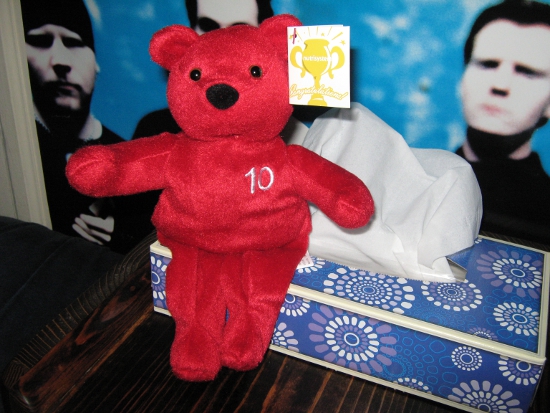 Jai also received his first Nutribear last week! Nutribears are commemorative plush toys that you receive to mark milestones on your weight loss journey. Meet Pound, the new addition to our family who marks Jai hitting the 10-pound milestone!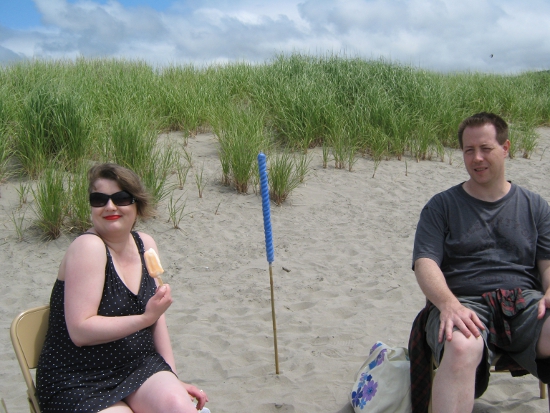 Another neat experience was hosting a frozen yogurt tasting party on the beach. Although the goal of Nutrisystem is naturally to stick to the plan for your day-to-day needs, they have a whole section of tips and suggestions for dining out. The whole point of the program is really to learn portion control and live a normal life while re-learning your old habits, not about deprivation. When Jai and I do something like this, we work it into our meal plan for the day. For example, I had one frozen yogurt bar which I ate in lieu of my PowerFuels for the morning. I also had a soda – I wasn't going to, but I got super hot and sunburnt so I said OK! – and so I replaced my SmartCarbs with that; I ate my Nutrisystem entrees as normal. At the end of the day, I came in under my calorie allotment so I could have (Maybe SHOULD have!) eaten a bit more, but I didn't feel hungry for a SmartCarb or Powerfuel so I just skipped it. The whole point of the program is just moderation and sensible overall eating. Of course, eating off-program and consuming things like soda puts more sugar/sodium/etc in your system than if you followed the plan, but when you do it occasionally it's fine.
What was also cool is that I didn't feel like I was "Cheated" because I could only have one yogurt. Normally at parties like this I way overeat, but I felt just as satisfied having one yogurt as I would have eating five, which I totally would have if I wasn't on Nutrisystem.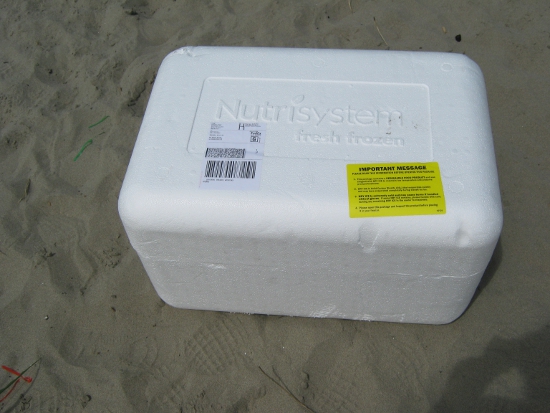 Also? The foam containers that Nutrisystem send their frozen shipment in make awesome coolers. We've actually been saving some of them for this reason! We filled one of these containers with ice and then packed it up with the frozen yogurt before heading to the party. So the packaging can be repurposed and used for parties!

In all, it was a pretty good week. We gained interesting insights, I got more sleep, and we had a fun day out with our friends. Onwards to week 7!
As members of the Nutrisystem Nation Blogger Panel, Jai and I will be receiving the Nutrisystem program free of charge in order to share our honest opinions with you. Always consult with your physician before embarking on any weight loss or exercise program.

Want to lose weight and get healthy on Nutrisystem? Join today by calling 1-888-853-4689 or by visiting Nutrisystem.com!