It's time for our mid-December Nutrisystem weigh-in!
Beeb's Weigh-In: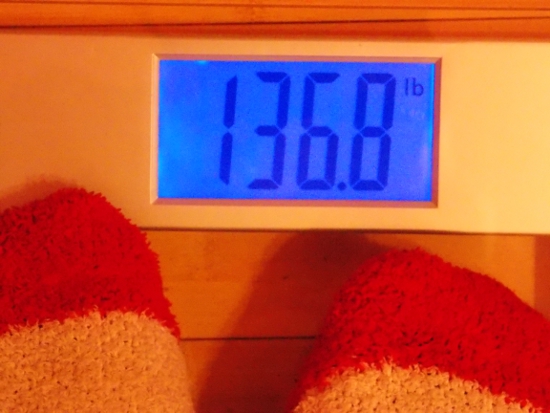 Starting Weight: 164.5 lbs
Week 27 weight: 136.8 lbs
Total Weight Lost: 27.7 lbs
Goal Weight: 110 lbs
Beeb's Measurements – Taken 12/17/12:
Jai's Weigh-In: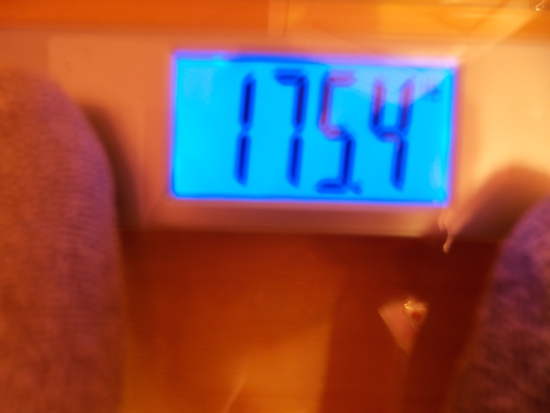 Starting Weight: 217.5 lbs
Week 27 Weight: 175.4 lbs
Total Weight Lost: 42.1 lbs
Goal Weight: 158 lbs
Jai's Measurements – Taken 12/17/12:

So this week, I lost 1.6 pounds and Jai lost .6 pounds! We were both pleased with our weigh-ins – it's been a while since either of us have seen these numbers. For me personally, I'm really starting to see a change in how I look. Jai's weight loss has been very noticeable the whole time, but mine has been more subtle in terms of how I look because of my limited mobility – I looked even bigger at my heavier weights because I had no muscle tone from being unable to do much; and of course that slowed how quickly I could lose weight as well. But I've still been losing weight steadily this whole time, and now I feel like it's a little more noticeable because I've gotten into a healthy weight range and I've also been able to resume more activity, so I can start getting muscle tone back. Earlier this week, I tried on a corset I bought in 2007 just on a whim, totally not expecting it to fit. The last time I tried it on, I couldn't even get it fastened. To my surprise, not only did it fit, but it was comfortable and I felt good in it, so I wore it the whole rest of the day! (And that same morning? Jai was showing me how a belt I bought for him was now too big to wear!) I still have a ways to go before I feel like I will be at my physical prime, both in terms of how I feel and how I look, but I am over halfway to my goal now and I'm feeling so good!
I have to say, this is probably the first December ever that I've actually lost weight! And I haven't been deprived of any holiday fun, either. I enjoyed a few off-program moments this week when I made Jai and I hot chocolate while we trimmed the tree, and when we nibbled on some candy canes and Christmas chocolate that popped up as it does this time of year! And you know what? That's OK! The whole point of this program is just to lead a more balanced life and know what you need to stay on track. For me, as long as I have a stable routine in place on a daily basis, having a cookie at a holiday party isn't a problem since I'm not attending them every day. The key is to be honest with yourself and make sure that the indulgences really are sporadic and moderate. I think that by treating yourself in a healthy way, you can help to stay on track by eliminating that feeling of being deprived – but on the flip side, if you find that having a piece of fudge at a party makes you want to stop at the store and buy another package of cookies for the road and then stop at the drive-through on the way home, then your individual strategy will be different. I think each person has different triggers so it's important to do what works best for you.
In terms of exercise, I've been following those YouTube fitness videos I mentioned last week and enjoying them a lot. I started feeling poorly the last half of the week, so I gave myself a break from working out; but I still stayed active by walking and cleaning, respectively. Since I felt sick, my appetite was kind of off this week and I believe I skipped one of my Nutrisystem meals and definitely some of my SmartCarbs and PowerFuels. But I've been faithfully re-stocking our bananas and nonfat milk, at least!
My schedule has been a lot better this month and I've been allowing myself enough time to take care of myself and rest. I know that the rest of this month will not be average, since our schedules will be altered and I know there will be a few more holiday treats in the pipeline. And that's just fine, because we have Nutrisystem to keep us on track! I remember this time last year, being so frazzled with my schedule that I would eat cookie dough for dinner because I'd been baking cookies all day and didn't have time left to cook. No matter how chaotic things have gotten this year, Nutrisystem's had my back and made it possible to eat regular meals even when I overbooked myself. What a world of difference a year makes!!
As members of the Nutrisystem Nation Blogger Panel, Jai and I will be receiving the Nutrisystem program free of charge in order to share our honest opinions with you. Always consult with your physician before embarking on any weight loss or exercise program.

Want to lose weight and get healthy on Nutrisystem? Take advantage of their online support forums & community and join today by calling 1-888-853-4689 or by visiting Nutrisystem.com!