It's time for our December Nutrisystem wrap-up! This is our seventh month on the program and we're so excited for what the New Year will hold for us!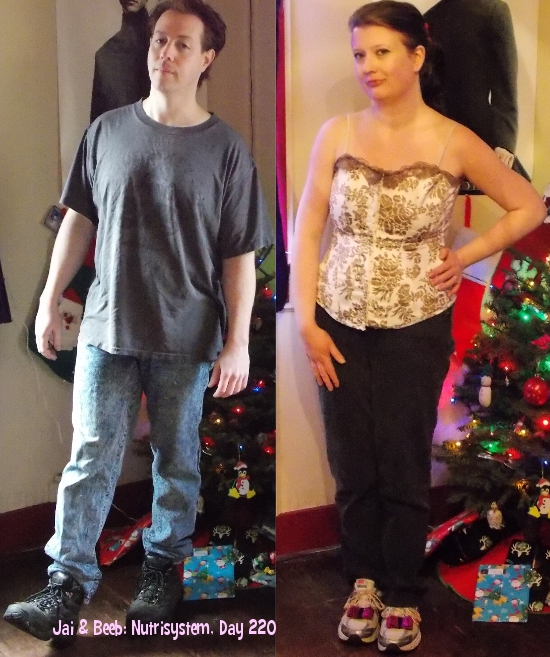 (I'm wearing the corset that's been hanging unworn in my closet because it finally fits again, and Jai is wearing a pair of jeans that he didn't think would fit him!)
Beeb's Weigh-In: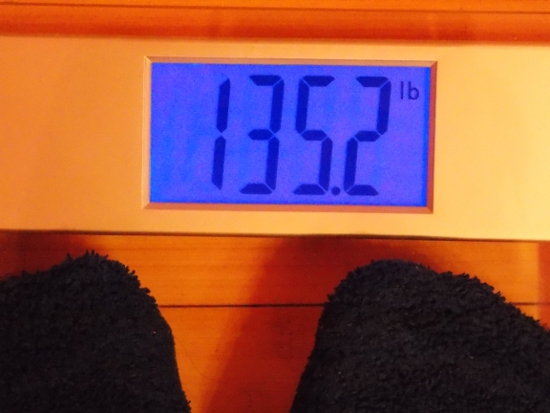 Starting Weight: 164.5 lbs
Week 28 weight: 135.2 lbs
Total Weight Lost: 29.3 lbs
Goal Weight: 110 lbs
Beeb's Measurements, Month 7:

Jai's Weigh-In: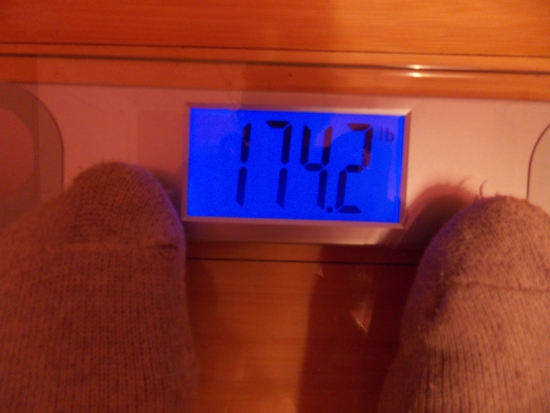 Starting Weight: 217.5 lbs
Week 28 Weight: 174.2 lbs
Total Weight Lost: 43.3 lbs
Goal Weight: 158 lbs
Jai's Measurements, Month 7:

December is typically a tough month on the diet, but having Nutrisystem this year made a huge difference! We weighed in on Saturday, December 22nd and I had lost 1.6 pounds and Jai had lost 1.2 pounds! I can't tell you what an amazing feeling it is to be entering the New Year already halfway to my weight loss goal. Usually this month is rough with so much food, I'm usually lamenting how much weight I've gained and thinking of how much work I'll have to do to get in shape in the next year. I'm already so far ahead of the game now and it feels great!
This is not to say that we didn't enjoy ourselves over the holidays. We had delicious Christmas candies, cocktails, and I did get a giant bucket of popcorn when we went to see The Hobbit over the previous weekend. Movies are difficult while you're dieting, because they're long, usually run through a meal period and there's not much in the way of healthy food available at the concession stands, haha! I considered bringing my Nutrisystem spaghetti with me and eating it out of my purse like Charlie in It's Always Sunny In Philadelphia, but I decided against it and just treated myself to the buttery popcorn instead.

We also enjoyed some food at Grandma's house on Christmas day, so I expect that our next weigh-in will reflect the holiday bloat, and that's OK. For us, having "Off-program" moments during our course on this program has not been a hindrance, because our daily routine is consistent. I can't tell you how fab it is to have dinner ready to go after a long day of going to the Post Office, wrapping gifts, and so forth! I feel like measured treats help us in the long run because I truly feel like I'm not missing out on anything. I still get to have fun and do what I want and eat Christmas cookies – there is no deprivation, just a much-needed structure in my daily life and relief from cooking duties. You can't go wrong with that, right? (And as I've pointed out before, everyone is different – others may prefer to avoid too many treats and stick to the program 24/7 if they find that party food is a trigger. Doing this program has helped Jai and I further identify our problem areas and figure out a gameplan that works for our needs. Everyone is different!)
In terms of the rest of the program, I did skip some of my Nutrisystem entrees in lieu of other food – for example, I wasn't hungry for dinner after eating a big bucket of popcorn at the movies! I haven't been hungry for my PowerFuels or protein shakes in the morning, although I did do a little better with eating my SmartCarbs. I know that the holidays are a bit of a schedule shake-up for everyone, so I'm just enjoying the ride and going with the flow. There may be some extra food around, but we still have a consistent meal plan we can rely on every day so that I know these little indulgences won't throw me off the wagon and into the diet ditch!
The last 7 months have been incredible and we are so excited to see what the coming months on Nutrisystem will bring as we head towards our goal weights in 2013! As I mentioned in the video above, it's been a long time since I've felt this optimistic heading into a New Year. My biggest wish for the last few years has been to just get my mobility back, so it's beyond thrilling to just be able to walk and move around properly! I've also continued to work out more, adapting fitness videos on YouTube to what I'm capable of so I don't rush into anything too fast. I'm just slowly letting my knees get used to being active again so I can regain the last bit of knee function and eventually go back to doing full cardio/weight bearing workouts. I worked out for a few days last week and then took a break on Wednesday when one of my knees started to ache after a long day running errands. I took the rest of the week off from exercise and just let my knees get a workout by doing other activities around the house – prepping to paint a room, cleaning for Christmas activities, etc. My doctor basically just told me to keep doing what I'm doing and play it by ear in terms of what activities I go, so I'll just keep modifying my workouts until I have no further pain.
I hope that everyone who celebrated had a wonderful Christmas! Here's to a wonderful New Year of new beginnings!
As members of the Nutrisystem Nation Blogger Panel, Jai and I will be receiving the Nutrisystem program free of charge in order to share our honest opinions with you. Always consult with your physician before embarking on any weight loss or exercise program.

Want to lose weight and get healthy on Nutrisystem? Take advantage of their online support forums & community and join today by calling 1-888-853-4689 or by visiting Nutrisystem.com!