During the summer months, you'll probably be welcoming a number of guests into your home. But there is one uninvited guest that no one wants: Insects! To help you give these party crashers the boot, TERRO would like to give one lucky Contest Corner reader a gallon of their Home Insect Killer, which kills 65 different types of common pests – so keep reading for your chance to win!
You know my favorite thing about winter? The fact that there are virtually no insects. As soon as the weather starts to warm up, you have to contend with an influx of flies, mosquitoes, crane flies, spiders, and my least favorite: ANTS. Every summer, we seem to end up with ants, usually in the bathroom. We've taken preventative measures to try and get rid of them, but you know how persistent they are. In the last month, we've had a problem with ants in the bathroom – no matter how many ant traps we put down, they kept coming. It was so disgusting to me that I didn't even want to be in the room – I mean, it's kind of gross to take a shower and not really feel clean because there's ants running over your slippers. I even took a picture for your viewing pleasure: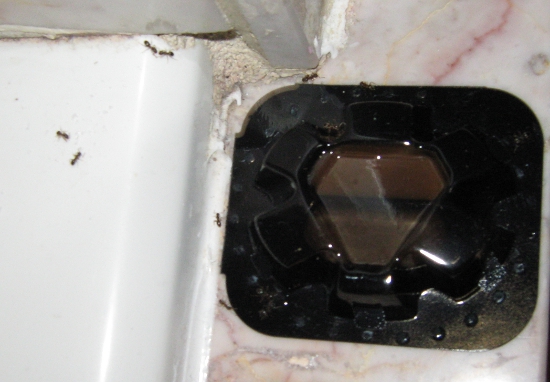 These are ants congregating on one of the traps we had set. Clearly, this wasn't quite getting me the results I was desiring. So the timing absolutely could not have been better when I received an email from TERRO asking if I would like to review their Home Insect Killer, which is designed to kill 65 types of common pests, including both regular and carpenter ants. Yes please!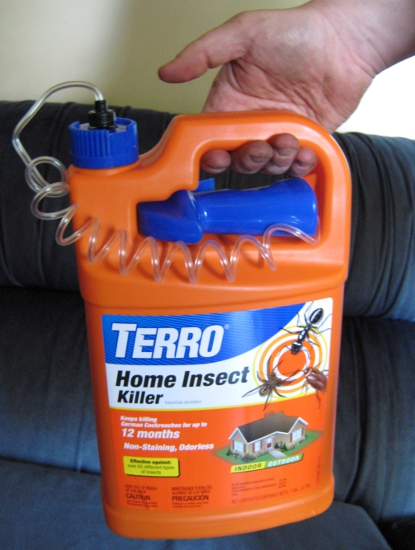 When my complimentary ant killer arrived, the ant population had already dwindled significantly, but I wasn't being lulled into a false sense of security; I had thought the ants were dying off a few weeks prior, and then they came back in droves. This was the perfect time to exterminate any last trace of them! The Home Insect Killer comes in a large plastic container with a removable nozzle sprayer, so that you can spray it all around the perimeter of your home. This is such a great idea – not only does it allow you to attack them from multiple angles, but we can also use it as a thorough preventative measure before infestations even begin. Jai sprayed the whole outside border of our home down, and then also sprayed it very thoroughly around the edges of the bathroom. This product is totally usable indoors, and does not smell bad. Obviously, there are some cautions to take with indoor use – for example, you can't spray it on your dishes, but I really can't imagine that anyone would want to do that anyway.

We have not seen one single ant since spraying everything down once with TERRO Home Insect Killer, so I'm thrilled to be ant-free. There is still a ton of it left, so we can keep using it throughout the summer to ensure that no ants try to come back. In addition, Jai noticed a swarm of baby spiders above his desk, so he's been using this to combat that as well. (Did I mention how much I hate all the BUGS during the summer?!) Spraying this above his desk wiped out the first batch, but since this is upstairs, they're coming through the attic, which is how they circumvented the outside perimeter of bug killer. He can't get behind the wall to spray the source of this spider nest, so he's going to keep re-spraying the area above his desk until he can get all of them.
Once again, we are very satisfied with a quality insect killer from TERRO. To keep up with the latest bug elimination news, be sure to follow them on Facebook and Twitter!
Giveaway Time!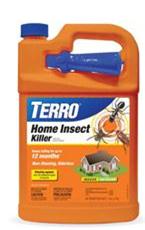 Are you getting "Bugged" this summer? One lucky Contest Corner reader will win 1 gallon of TERRO Home Insect Killer! Entry is easy via the Rafflecopter form below:
a Rafflecopter giveaway
Rules, regulations, and other important stuff: Giveaway is open to US residents, 18+, and ends on July 17th, 2012 at 12:01 AM EST. Winner will be chosen through Rafflecopter the same day and notified via email. Winner has 48 hours to respond to our notification email, or a new winner will be chosen in their place. This promotion is in no way sponsored, endorsed or administered by, or associated with, Facebook. We hereby release Facebook of any liability. By entering this giveaway, you are releasing Facebook and understand that you are providing information to Contest Corner and the giveaway sponsor, not Facebook. Contest Corner is not responsible for late entries or entries lost due to technical malfunctions. Please see our Privacy Policy and Disclosure for further details on our site's policies.