Do you make New Year's resolutions? Although I have the same goals year-round, I do enjoy the psychological effect of starting a new year on a new foot and getting a chance to reassess my gameplan. For most people who make New Year's resolutions, it seems that "Losing weight/getting in shape" is always at the top of the list, as it always has been for me too. But something really cool happened to me this year: I began Nutrisystem in June. 7 months into the program, I've lost 29.3 lbs (As of my writing this in advance on 12/28/12!), gone from overweight to a medically healthy weight & BMI, and am more than halfway to my goal weight of 110. (As a woman with a small frame, I look and feel my best at the lower end of my healthy weight range, which is why I set my goal as I did.) For the first New Year in the history of…well, EVER, I am actually starting off the New Year having already established healthy eating and fitness habits. I can't tell you how amazing it feels, and how much of a difference one year has made: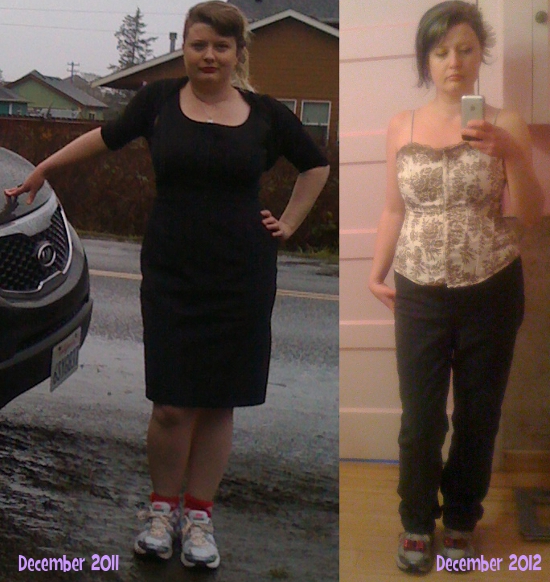 Click the image to view it full-size
These are some comparison snaps I found on my iPhone from December 2011 and December 2012. I actually had a really hard time finding "Before" pictures, because I was avoiding cameras last year. Not only was I overweight, but I was struggling with my knee injury and was in too much chronic pain to get dressed a lot of the time. So yeah, not a lot of snapshots got taken at this time! I never would have thought I'd be saying this, but I wish there were more photos of me at my heaviest weight so you could really see the contrast. I did also dig up a few videos to compare how I look in motion – here's a video I filmed on December 26th, 2011:
Here's a video I filmed on December 27th, 2012:
These give you somewhat of an idea of how heavy I looked, although honestly it was worse in "Real life" I think. I just have very few photos from that time period to choose from! I am not at my goal weight yet and I have a lot of work yet to do, so the current photos aren't meant to be my "After" by any means, rather just to give you an idea of how much improvement has been made already and where I am now versus where I was one year ago. What a change this year has brought, that's for sure.
As I reflect on the closing of 2012, I will remember that this time last year was one of the lowest times of my life. My daily life and function was impeded to an unbelievable degree by my knee injury, so I wasn't really living; just trying to survive through the chronic pain and carry on, wondering when it would ever get better. Many may not realize how bad it was because I try not to complain, but it was a dark time. And because my knees were so bad, I couldn't walk properly or just move around normally, so my weight got so out of control because I all I could do was sit all day. I kept thinking, "I'm just going to keep getting bigger and bigger…I can't even begin to start losing weight until my knees heal. How many years is it going to take just to get back to normal life again?" It was not good at all.
But then I began Nutrisystem on June 6th, 2012 – you can see my photos and videos from day 1 on the program here for comparison also! – and that was the day that I got control back over my health. Although my knees were still a big impediment, I started losing weight with the diet right away – finally, I didn't have to worry what my knees were doing; I could start losing weight right away! And, as the months progressed, I continued losing weight and my knees slowly got better. Now, not only have I lost a significant amount of weight, but my knees have improved to the point where they rarely impede my day-to-day life aside from occasional bouts of soreness; I can do pretty much everything I want now and I have even begun slowly starting athletic workouts again so that I can continue rehabilitating them until I'm 100% normal again, as the injury I sustained is totally recoverable according to my doctors – I am beyond thankful for that fact.
So as we start 2013, I'm feeling not only far more optimistic than I was last year, but indeed, more optimistic than I've felt in a long time. There are a lot of hardships in our life right now, but the fact that my health is back under my control makes my other problems feel manageable. And Jai has been right there with me on this journey, losing 43.3 pounds and getting close to his goal weight. What an incredible journey this has been so far! We are both so excited to continue our Nutrisystem journey in 2013 and continue to grow and progress.
Our friends and family have really noticed the change, and we have gotten a lot of questions about the program and how we've made it work. We're always happy to answer any questions, so if you're starting Nutrisystem this year, are curious about what we've been doing or just want to hear some words of encouragement, don't hesitate to drop me a line either in the comments or in my email. If you've been struggling with your weight, an injury, or both, I empathize more than you know!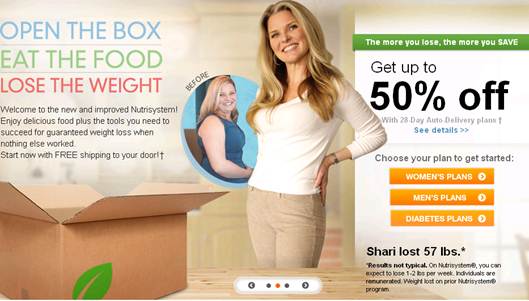 For anyone considering Nutrisystem as part of their New Year's Resolution, you may want to check out "The more you lose, the more you save" sale they have going on with up to 50% off. I know the cost is a big factor for a lot of you considering this – I had considered Nutrisystem for years before I joined their blogger program, and the cost was always the dealbreaker. Knowing what I know now, I would unhesitatingly put my money down for this, and I imagine I will in the future once we've completed our stint on the blogger program; although we hope to reach our goal weights soon, I would honestly buy Nutrisystem just for ease and maintenance in the future, even if I was at my goal weight. Especially when I'm at my goal weight, as I've already told Jai and I DONE yo-yo dieting and refuse to do this again. In fact, the fact that I'm so frugal and feel a need to do everything the "Right" way is actually part of the reason why my weight got so out of control to begin with.
When I started really growing my business full-time at the beginning of 2009, I ran out of time to maintain everything I needed to do with work and also eat healthily, cut as many coupons as I had before, etc. Although I should have adapted to this new normal and realized I was doing what made fiscal sense, instead I felt bad and felt like I was failing. I kept telling myself that TOMORROW I would make time to go shopping for healthy, discounted food, cook a bunch of freezer meals, and do all those healthy and frugal things I'd been doing prior to starting my business full-time. But there never was time, so each night, I'd order a pizza, grab fast food, or some other form of rushed food. Not only did that end up being more expensive, but of course, much more unhealthy. I wish I had just spent the money on Nutrisystem instead and accepted that it's OK to not be capable of doing everything! But this has been a year of insight and realizations, so going forward, I will make a real effort to accept my limitations and realize that as long as I'm focusing on the most important task at hand, I'm doing the right thing. Things change a lot these days and I don't always adapt as quickly as I should; sometimes, it will make the most fiscal sense to spend time cutting a lot of coupons, and sometimes, it will make the most sense to put more of that time into business endeavors. So with that in mind, as I go into the coming years I will have no hesitation going on Nutrisystem whenever I find myself really short on time – and I will do so BEFORE I start regaining a lot of weight. So, I just wanted to throw my perspective out there as one of the most frugal people you will ever meet, because it's something I thought about a lot before starting the blogger program and I'm sure many of my fellow coupon bloggers will have thought the same exact things!
Finally, if you're curious for more information on the program and what new things Nutrisystem is offering for 2013, you can click here to read their most recent press release.

So tell me: Do you have a New Year's resolution? If so, what is it? I'd love to know!
As members of the Nutrisystem Nation Blogger Panel, Jai and I will be receiving the Nutrisystem program free of charge in order to share our honest opinions with you. Always consult with your physician before embarking on any weight loss or exercise program.

Want to lose weight and get healthy on Nutrisystem? Take advantage of their online support forums & community and join today by calling 1-888-853-4689 or by visiting Nutrisystem.com!